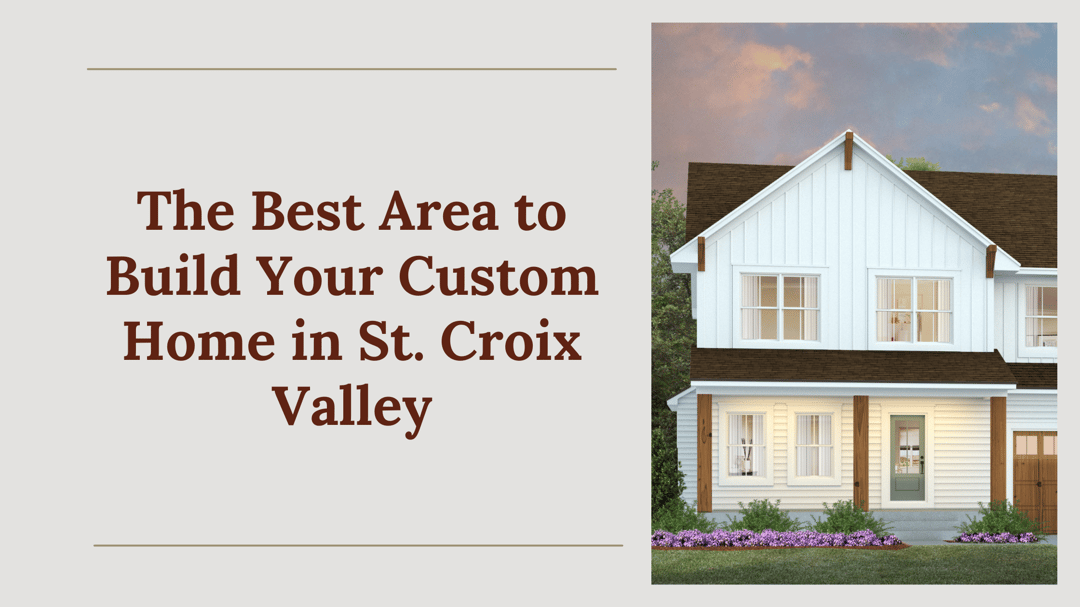 St. Croix Valley is a picturesque location that offers the best combination of open natural spaces and all the city amenities you could want in a place to call home. Everything from hiking and birdwatching to the theater and fine dining in close proximity, you'll have something new to try each week right from your own hometown.
It's what makes the St. Croix Valley one of the best places to build a home. Discover some of the best areas to build your custom home in St. Croix Valley.
New Richmond
With gorgeous scenery, fantastic golf courses, and plenty of outdoor recreation, the area of New Richmond is an ideal place for families that enjoy the outdoors. The proximity to the Willow River State Park means easy access to kayaking, camping, hiking, and more. New Richmond is also close to the St. Croix River. Enjoy waterfalls, fossil hunting, bird watching, and star gazing.
The town also offers plenty of other activities, like stock car racing, the theater, shopping, dining, and locally owned unique shops. New Richmond has city amenities with a small-town feel. It's a perfect balance.
As for the school district, New Richmond ranks highly. Paired with its job growth and low crime rates, New Richmond is a go-to for families, young professionals, and older adults alike. The real estate market in New Richmond is also affordable.
Consider the neighborhood of Water's Edge. This comfortable and quiet area offers developed land for your custom home and lake access.
Hudson
Another area with a small-town feel and city amenities is Hudson, Wisconsin. This town has seen a huge population boom in the past several years and the trend will continue. Families and professionals are moving to Hudson in droves for its proximity to larger cities. It's a suburban area, with most residents owning their homes, lending to a sense of community.
Hudson is beautiful, clean, safe, and offers plenty of activities, from family-friendly to a fun night out. Its downtown area boasts dining, shopping, and more. In the nearby cities, enjoy restaurants, shopping, music venues, sports, and every dining option you could want. Hudson truly has something for everyone.
The small city of Hudson ranks high in livability based on the highly rated education system, low crime rate, and other factors. Hudson is also known for its friendly residents, which further lends to its tight-knit community and small-town feel.
When you're planning your custom home in Hudson, Wisconsin, look to The Ridges neighborhood. This community is located near downtown Hudson, City Park, St. Croix River, and Marina, as well as Lake Mallalieu. The amenities you'll enjoy just outside of your neighborhood are so plentiful, every weekend will feel like a getaway.
Meadow Ridge of Troy
is another outstanding neighborhood in Hudson. It offers spectacular views of St. Croix Valley with spacious lots and a tight-knit community feel. You'll feel right at home in this beautiful neighborhood that also boasts an excellent school system and plenty of recreational activities. The best part is you can enjoy the quiet and closeness of this community while being only a short drive away from dining and shopping.
River Falls
Located only three minutes from the beautiful Kinnikinic River, the city of River Falls is a growing community with excellent schools, over two dozen parks, and plenty of hiking and biking trails. River Falls also has a lively downtown with historic architecture and healthy economic growth while remaining a safe place to live and visit. Mark your calendar for one of the River Falls festivals, parades, and art fairs.
River Falls is also an outdoor enthusiast's paradise. The Kinnikinic River Valley offers excellent trout fishing, mountain biking, and rock climbing. Nearby, enjoy camping, hiking, and bird watching in the Willow River State Park. You can also spend some time outside on one of the area's many top-notch golf courses.
Within only 30 miles of the Minneapolis and St. Paul area, you're in close proximity to the adventure and amenities the larger cities offer. Whether you're commuting for work, school, or just a weekend shopping trip, you're close enough to enjoy both the great outdoors and city life whenever you like.
River Falls is also known as one of the greenest communities in the nation for its percentage of residents that use green energy. From individual homes to the community solar garden, River Falls has a reputation for its cleanliness and environmental awareness.
If you're looking to take advantage of everything River Falls has to offer and build a custom home, get in touch with Derrick Custom Homes, who's known for building high-end homes that have all the luxuries and amenities you can imagine. You'll be first to know when new lots in Thompson Heights become available in the spring of 2023.
Baytown
Located along the St. Croix River is the community of Baytown. A suburb of St. Paul, Baytown is easily one of the best places to live in all of Minnesota. The rural feel with easy city access has also become highly sought after, contributing to Baytown's sizable population growth over the last couple of decades. With almost all of Baytown's residents owning their homes, it's no wonder that the community is so strong here.
Professionals who work in nearby St. Paul are flocking to the area to be within reach of the city while enjoying the wide open spaces. With low crime and excellent schools, Baytown is also a top-notch place for families.
The Hills of Spring Creek
neighborhood is simply the best of the best, offering those who yearn to live in Baytown an opportunity to live among the countryside with fantastic views in a luxury custom home. Built with every high-end finish and amenity on your must-have list, you'll enjoy the pristine surroundings that's protected to ensure wildlife and their habitats remain intact. The walking trails throughout the area offer residents to easily enjoy its beauty and charm.
Build Your Custom Home With Derrick Custom Homes
With so many budding and established communities in the St. Croix Valley to build your custom home, you'll likely need a little guidance to decide which community is the best fit for you and your family and how to find land. Contact Derrick Custom Homes, and we'll be glad to walk you through your choices, schedule a consultation, and provide an exclusive viewing of our homes in the area.