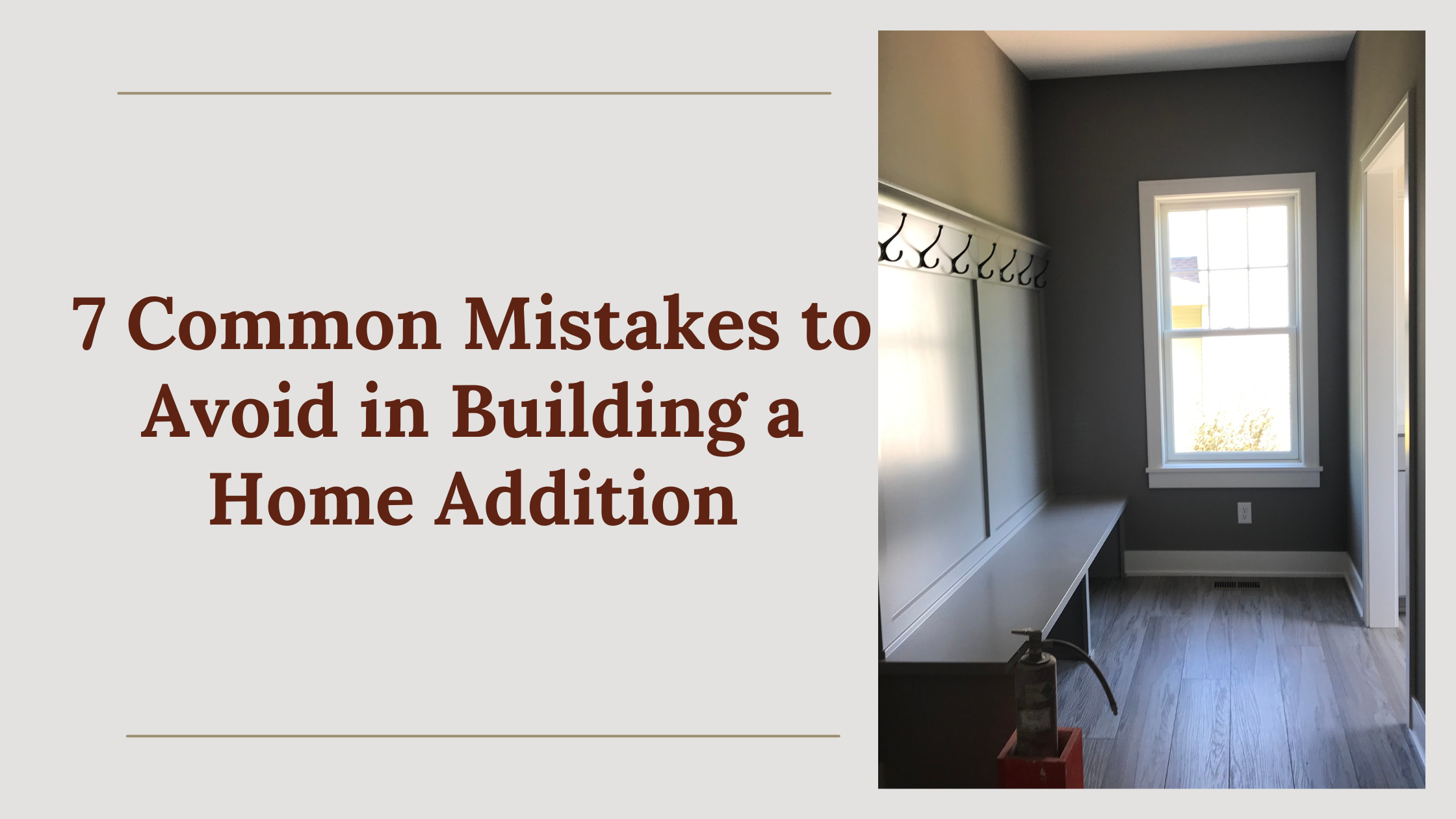 You're feeling cramped, you're expecting a child, or you purchased a home and can finally get around to the updates you planned. Rushing into an addition without proper planning can cause a lot of stress, frustration, and a ballooned budget. Design and build an addition to your Twin City home with mindfulness and come out on the other end of your remodel with the addition you envisioned. What should you know before adding onto your home to ensure the best outcome? What are the most common mistakes to avoid?
1. Not Considering Your Neighbors' Homes
Of course, your home should reflect your own needs. However, if your home is single-level and your neighbors are largely two-level homes, consider building up rather than out. The opposite is also true. It can be beneficial for a home to stand out from the crowd but within reason.
2. Designing Without Checking Local Ordinances
Your addition may or may not be violating an ordinance or code, whether with your municipality or HOA. Before you invest in the design of your space, be sure to do your research. The distance you can build from your property line, height ordinances, or structural requirements have to be followed to the letter. Otherwise, you could be fined or worse.
When you hire your designer and builder, ask them about their experience with Minnesota or Wisconsin residential building codes. You'll want to go into the remodeling process with the confidence that your team is knowledgeable and experienced. Doing your own homework is great to have foundational knowledge, but your design-build team should already know how to navigate the labyrinth of local codes to make sure that your addition won't be challenged.
3. Not Exploring Different Options
There are many ways to create an addition and each will come with different costs. For example, bumping out will cost more than building up. This is because the materials and labor costs are higher. Some additions only make sense as a bump out, like expanding your kitchen or creating a family room, but there are more ways to create additional space.
If a kitchen expansion is the goal, consider taking space from an adjoining room and building up to recreate that space elsewhere. Reassigning spaces might seem like a lot more work and a higher budget, but you'll never know unless you ask your designer to explore more options along with their projected estimates.
4. Lack of Preparation
An addition, or any type of remodeling, will disrupt your daily routine, sometimes significantly. Are you expanding your kitchen or creating a primary suite? Be prepared to alter how you'll prepare meals, sleeping arrangements, or working from home. If you have small children or if the interruption sounds like too much to manage, look into alternative lodging for the duration of the remodel.
You'll also want to prepare for the mess. Construction dust can be very pervasive. Even with sheathing and doing everything the construction crew can do to prevent the dust from traveling to other parts of the home, it can still happen. If you won't be living in your home for the remodel, be sure to cover furnishings and other items with plastic drop clothes. Put clothes into bins or hanging bags, if construction will take place near your closets.
5. Letting the Design Dictate the Cost
Having a budget before going into designing your addition sounds like a no-brainer, but costs can start to pile up if you don't keep a close eye on things. The finishes, square footage, features, and so on all have to be decided, but make sure to consider your choices as part of the bigger picture. If you dream of custom built-ins but they'll swallow up a larger part of the budget than you anticipated, be prepared to compromise on other aspects.
This is easy to do if you take the time to rank your must-haves. What features are more important and with which can you be more flexible? Commercial-grade appliances in the kitchen? Hardwood floors? Imported Italian porcelain tile for your shower? You might enjoy your space more if you indulge in some luxury features and compromise on others, rather than choosing midrange features throughout the space.
6. Planning Without Looking Ahead
If you're adding onto your home, it's likely because you want to continue living there for quite some time. When working with your designer, try to think several years into the future. Will your family continue to grow? Is it possible that an older relative will be moving into your home in a few years? Your family's dynamic and needs will change over time, and not always in predictable ways. It's still a good idea to try and plan for the changes that are possible.
7. Hiring a Beginner
The design-build team you hire can be the difference between getting what you planned and getting an experience full of frustration, wasted money, and a sour outcome. Hire a team that has plenty of verified experience with remodels, especially additions.
Hire a custom home firm that can take your project seamlessly from start to finish. Derrick Custom Homes is a trusted company in the Twin City area that's been in the business for decades. They will assess your home as is and help guide you through every decision, keeping you in the driver's seat while equipping you with their expertise and knowledge. Contact Derrick Custom Homes for a consultation.