You're wondering if a home remodel is worth the investment of time and money. Well, there are some important considerations to help you decide. Chances are, if you're wondering about a home remodel, you've already thought about what projects would solve your home's challenges. From increasing your home's value to improving your family's quality of life, let's get into how you'll know if a remodel is worth it for your home.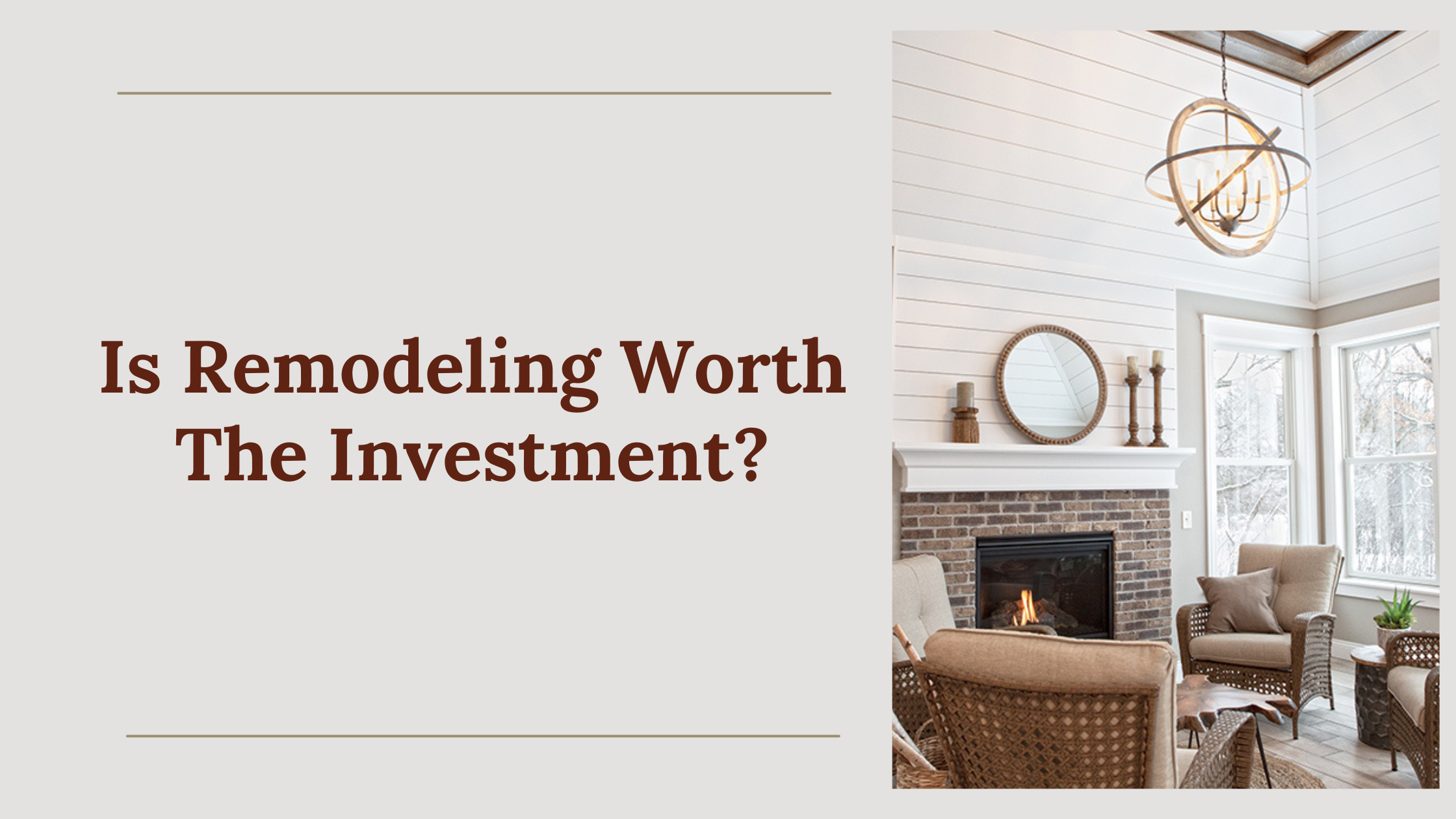 ROI vs SROI
ROI measures dollar value while SROI measures quality of life. Both of these reflect very different but important aspects of remodeling a home. Which should you consider when thinking about remodeling your home? Both. But your personal remodeling goals might make one way more important than the other.
What is ROI?
ROI stands for return on investment. It's the amount of your investment you'll get back if you were to appraise or sell your home shortly after the remodel. For example, if you spend the average $100,000 on a major kitchen remodel in the Stillwater, Minnesota area with the projected ROI at around 50%, your remodel will add $50,000 to the market value of your home.
You might be wondering: "Why would I invest so much to only get half back?"
Answer: The dollar return is only half of the picture.
Selling Your Home
If you're planning to sell your home within the next few years, having an updated kitchen could be the difference between your home selling quickly and your home staying on the market until you cave and make updates anyway.
You just want to sell your home as soon as possible, so you rush into a contract with a budget contractor, only for your project to be low quality, go over budget, and create more stress than you could have imagined. Also, a shoddy remodel won't give you as much back in market value as a job done properly. It's a common series of unfortunate events.
Remodeling a Room vs a Whole Home Remodel
Another aspect to consider with ROI is that the numbers outlined in the Cost vs Value Report don't take into account the ROI a whole home remodel can earn, it only considers individual rooms. This is an important note because remodeling a single room can make that one space look new and fresh while highlighting the datedness or disrepair in other parts of your home.
For example, when you remodel your kitchen with new finishes and the latest smart appliances, your 20-year-old bathrooms will now look worse by comparison. This is why a whole home remodel can get a better ROI than single-room remodels.
Despite this, what areas of the home get the highest ROI when they're updated?
Minor kitchen remodel
Outdoor living space addition
Bathroom remodel
Major kitchen remodel
Bathroom addition
Primary suite addition


Long-Term Value vs Short-Term Value
To get the most value for your investment, consider what will hold its value for longer. Cosmetic updates won't have as long of a shelf-life as square-foot additions, like adding a bedroom or finishing your basement. For example, only replacing the finishes in your kitchen will cause them to eventually become dated and lose value, whereas finishing the basement or expanding your kitchen to create more livable space is an investment that will always remain valuable.
As-Completed Appraisal
One way to have a better idea of how much value a remodel will add to your home is an as-completed appraisal. An appraiser will look at your remodeling plans compared to your current home, as well as sales in your neighborhood to determine a value. This is done as a standard part of applying for a renovation loan to determine your borrowing power which is based on the equity of the home as completed.
What is SROI?
SROI stands for social return on investment. This is a measure of the increase in the livability of your home and represents personal value rather than the dollar value. How is livability measured? The Remodeling Impact Report assesses livability by asking homeowners if they:
Have a greater desire to be home since completing the project
Have an increased sense of enjoyment when they are at home
Feel a major sense of accomplishment when they think of the project
Is SROI More Important Than ROI?
It certainly can be! If you're not planning to sell your home, your remodeling goals should center around how well your home can work for you, what design style brings you joy, and how much space your family needs, rather than what will get the highest market value.
What Remodeling Projects Bring the Highest SROI?
This mostly depends on what areas of your home bring the most frustration or just plain ruin your mood. If your kitchen is cramped, has poor lighting, not enough storage, and has old appliances, you're probably not enjoying cooking or getting ready for your day.
An older bathroom with poor ventilation, a leaking shower, and mildew in the tile grout can also put a damper on your regular routines. Could adding a bedroom or opening your floor plan create a better home environment for your family? Then you can count on a great SROI if these issues are resolved with a home remodel.
According to the Remodeling Impact Report, these are some of the most common room remodels that bring the highest SROI:
Converting the attic into livable space
Finishing a basement
Kitchen renovation
Bathroom renovation
Adding a bathroom
Adding a primary suite
So, Is Remodeling a Good Investment?
To answer this question, ask yourself a few more:
Will my remodel have long-term value?
How do my planned upgrades measure up to other homes in my neighborhood?
Is my remodel adding square footage?
Will the remodel make my house more functional?
Is the main motivator behind this renovation my own quality of life?
How long do I plan to stay in this house before moving?
Your home is what's considered an appreciating asset, which means it makes good sense to invest in it over time to keep everything in working order and looking nice. Whether you're concerned about your home remodel's ROI or SROI, the first step is contacting a design-build team that can help guide the remodeling process to make sure you get a great return, no matter the type.
Derrick Custom Homes knows that every home remodel is unique and needs to reflect the needs of the homeowner. That's why we go a step beyond your typical remodeler and hand-create every piece of trim, all cabinetry, and custom built-ins with hand-picked high-quality hardwoods in our in-house custom cabinet workshop. No detail is too small when it comes to ROI or SROI. Contact Derrick Custom Homes to schedule a consultation about getting the best possible return on your home remodeling plans.