Many of the design trends that were forecast at the end of 2021 remain popular going into Fall 2022. Designing your custom home in Eastern Minnesota or Western Wisconsin should be a mix of timeless features and fresh trending elements. What are the 2022 custom home design trends and how can you include them in your custom home?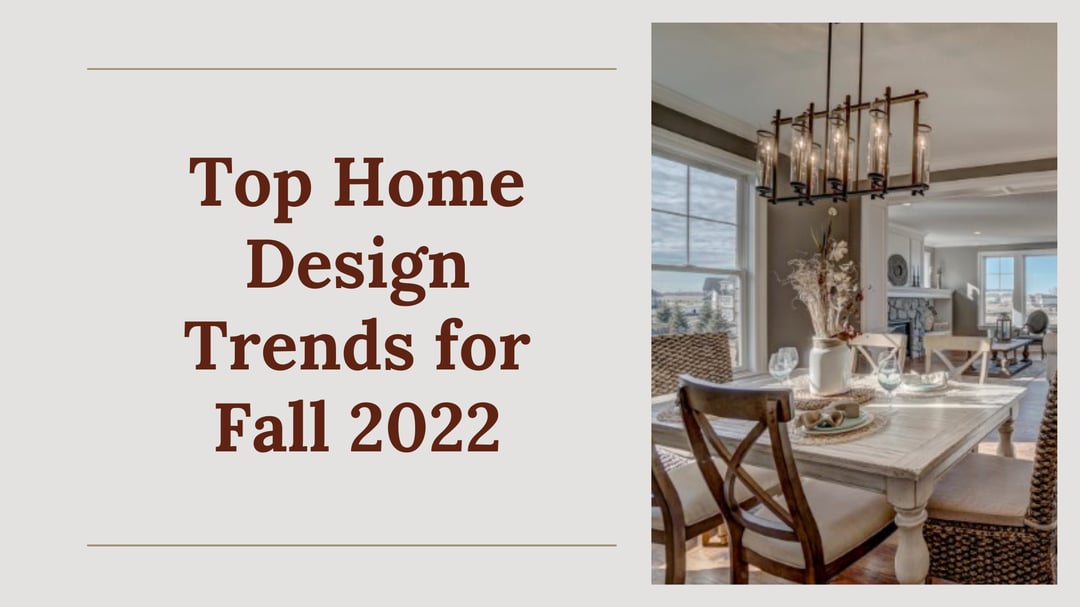 Accent Walls
Designers are using accent walls to break up the monotony of the same color across an entire room. As minimalism is being replaced by rooms with a bit more personality, using paint or wallpaper on one wall or the back of built-in shelves is a go-to option. Go bold in the bedroom with a deep navy, matte black, or bold wallpaper. If striking contrast isn't your style, use colors with similar hues, like a rich beige with a muted sage green as the accent color.
The living room is also a popular place to incorporate an accent wall. Try a subtle wallpaper or a trending paint color on the walls flanking the fireplace. Usually, the accent wall in a living area or dining room is the wall you first see when you walk in or the wall that's already meant to be the focal point. Avoid walls that are asymmetric due to off-center windows or doors. Also, avoid walls that are irregularly angled due to a slanted ceiling.
Texture
Texture is making a big comeback in lots of different applications. Use a grasscloth wallpaper for your accent wall in the bedroom or above the wainscoting in your half bath. As for architectural elements, consider adding texture with a stone fireplace or an exposed brick wall in the kitchen. Penny tile in the mudroom or bathroom adds plenty of visual texture that is also a timeless design feature that won't go out of style any time soon.
Layers
Going along the same theme, move away from stark minimalism and inject a dose of personality by adding layers. This can be done by layering various materials and colors or through furnishings, like drapes and rugs. In the kitchen, layer colors and materials by using a different color on your lower cabinets from your upper cabinets and by using a different countertop material on your island from your perimeter counters.
Layers can also be used in the bathroom by using one size and shape of tile on the floor and another on the shower walls. For example, use wood grain ceramic tile on the floor and marble tile on the walls—further layer materials with a light-toned natural wood custom vanity.
Slab Backsplash
Using a single slab of stone–usually, marble–for the backsplash in your kitchen was a popular trend at the beginning of 2022 and continues to be going into the Fall. Using a single material on the countertops that continue up onto the wall is a great way to balance the layers of color you may be adding to your custom kitchen. To keep this trend looking fresh, go for a white or very light marble, which looks great with any cabinet or wall color.
Warmth
Whether it's through color, texture, or material, adding warmth back into your custom home design is a trend that will continue into the Fall. After a decade or more of stark all-over white and gray, designers are seeing a turn toward warmer elements, such as natural wood and earthy tones. Using white or gray along with these warmer tones is a way to incorporate these neutral background colors and use more trending colors.
One way to do this is to use cream white on your upper cabinets and a soft medium blue on the lower cabinets. If you'd like to limit color to furnishings, use natural wood tones instead. Solid wood custom-made cabinets will not only give your space a warm and welcoming feel but they will last a lifetime and continue to have a tasteful and timeless look.
Nature
Along the same theme of warmth and texture, the integration of nature indoors has become very popular. This was a result of everyone recently spending so much time either at home or exploring the outdoors. The addition of plants, sometimes by the dozens, began the trend. This influenced lots of other materials working their way indoors, like stone, wooden beams, natural wood cabinetry, and flora or fauna wallpaper.
Custom Details
Custom features in the home certainly aren't new, but they are spreading to every corner of the home. The desire for more customized storage in almost every room of the home is likely the culprit. Built-ins in the living room, custom shelving in the walk-in closets, custom vanities in the bathroom, and custom storage in the kitchen are all personalized elements every homeowner is looking to incorporate.
Other details that are growing in popularity in 2022 are custom crown moldings, trim, and curved archways. On the exterior of the home, the use of stone, custom window boxes, and corbels add interest. Each element gives the home a distinct style that is true to the homeowner.
Talk To A Custom Home Builder About The 2022 Design Trends
After scouring the internet and magazines for the latest design trends you'd love to include in your custom home, find the right design team that will help you reach your design goals. Whether it's trending or timeless, a design-build team that is focused on your experience and is committed to detail and craft will deliver the home that's made just for you. Derrick Custom Homes is a company that thrives on building relationships by including the homeowner in the process from start to finish and including only our best work in every home. Derrick Custom Homes is enthusiastic about working with you to build a home that feels like yours. Contact us today to bring your ideas to life.