You're ready to build a home that suits your style, your needs, and your budget. Checking off your must-have list while staying within your budget can feel like a balancing act, especially with all of the different types of homes you can choose to build. Building a custom single-family home is a common choice, but what about considering a twin home? What is a twin home and what are the advantages and disadvantages of building a twin home versus building a custom home?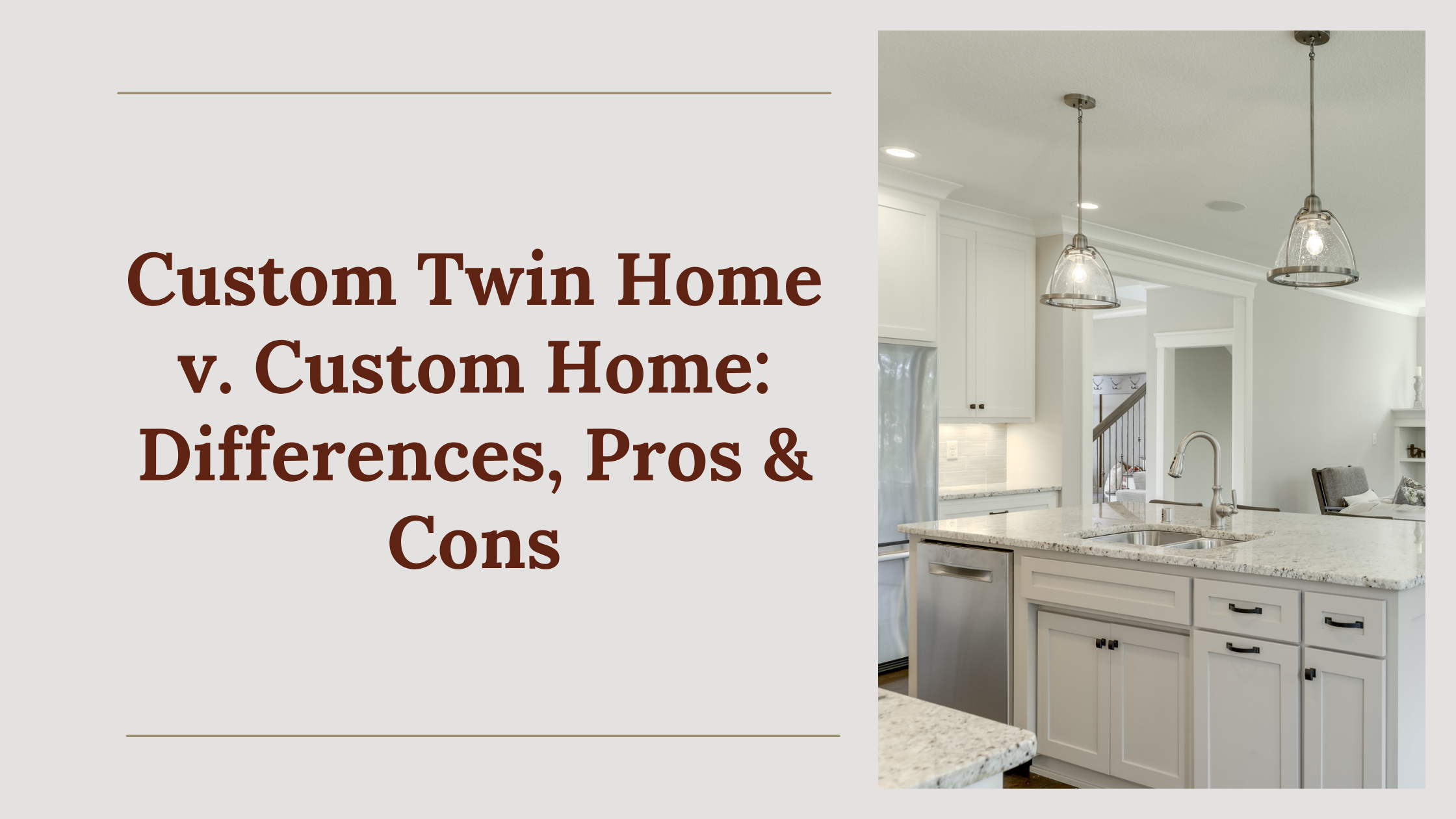 What Is A Twin Home?
A twin home is made up of two homes that are identical mirror images of one another from the outside. They are unlike a duplex in that the center wall is not shared or connected and more like a townhome with a mirrored neighbor. Although twin homes appear to share one lot, each side of the twin home sits on its own property and each home has its own title. Purchasing a twin home begins with considering the possible pros and cons, and weighing how they would affect your family.
Twin Home Pros
A major reason potential homeowners consider a twin home, is the economical advantage compared to a single-family home. First, the initial purchase price will be lower, which will make financing easier. As for costs over the long run, property taxes are usually lower and twin homes aren't intrinsically tied to HOA fees like townhomes. Of course, this could depend on the specific neighborhood, so be sure to look into this by consulting with your realtor or builder.
Owning a twin home comes with more freedom than a townhome or duplex. Each owner is able to choose exterior paint colors, siding, and landscaping per their own style. Owners will often consult one another on these types of changes or improvements so that the look is at the least complimentary of the other side.
Twin Home Cons
It's already been mentioned that there is freedom in owning a twin home, however, this can have its downsides, too. The owner on one side may be more diligent in yard maintenance than the other. This could be the case for keeping the property tidy in general. Also, the freedom of choice when it comes to paint colors, and the like, could lead to decisions that don't coordinate with the neighbor's tastes at all.
Something else to consider is how different the neighbor's lifestyle may be. Being so close to your neighbor does have its compromises. One side of the twin home may have kids or pets that can create frustrations being in close proximity.
Building A Custom Home
Building a custom single-family home is usually the go-to alternative to buying a home outright. Starting from scratch to design and build a home with every detail decided by the homeowner can feel like a large undertaking at times and can feel like the efforts were worth it at other times. Just like any other type of home, there are pros and cons.
Custom Home Pros
Likely the most obvious pro to building a custom home is that every aspect of the home will be fitted to your style and your needs. The types of rooms, the exterior, the layout, and any niche spaces that can accommodate your personal interests can all be included, as much as the budget will allow.
Building a custom home may seem like a larger investment than buying an older home at first, but it's usually more economical in the long run. Buying an older home, even by a few years, means there will be some wear and tear to address via repairs and maintenance. Factor in remodeling to meet your style and needs, and the price continues to climb.
Custom Home Cons
One downside to building a custom home is the time it can take to go from the first consultation to move-in day. On the other hand, buying a home can take just as long in a competitive market. The process of building a custom home can prove to be stressful and more expensive if your designer and contractor are poor communicators, rush the design process, or initiate change order after change order. With the right team, your custom home-building process can be better planned and even more enjoyable.
New Homes Versus Older Homes
In either scenario, building a brand new home instead of remodeling an older home will afford you energy efficiency and not having to make repairs due to wear and tear for several years. An older home won't have the tightly sealed envelope of a new home, making heating and cooling the home more expensive and less energy efficient. The mechanical systems, the plumbing, and electrical, will also be brand new and more efficient.
Another shared benefit is avoiding the roller coaster of buying a home. When shopping for a home on the market, the process of getting approved for a loan, then searching for an agent or listings, viewing homes, deciding to finally make a bid, then being outbid, and starting all over again takes an incredible amount of energy and time. Even if your bid is accepted, chances are, you'll have to make repairs or remodel the space to suit your needs.
Need Help Deciding? Discuss Your Options With A Professional
Building a home, no matter the style or type requires hiring the right team for the job. Your custom home should feel like yours and should suit your needs. Be sure to hire a contractor that will pay attention to what you need from your home and will know how to deliver it within your budget. Derrick Custom Homes has 50 years of experience doing just that. We have experience building an array of different homes to suit almost any budget while including custom touches like cabinetry and trim made in-house in our millwork shop. It's details like this that make Derrick Custom Homes a great fit for building your custom home. Contact Derrick Custom Homes to discuss your custom home options.