One of the most important things to consider when designing a house is the following question: How do I design a custom house that will stand the test of time for my family's future? What may be trendy now may not work years from now, so designing only based on what you need today is a big home planning mistake. So, planning your custom home around your family's future and current needs is an essential part of designing the perfect house. While building some of these "future features" into your home may cost more upfront, they will certainly pay for themselves in resale value and ease of use.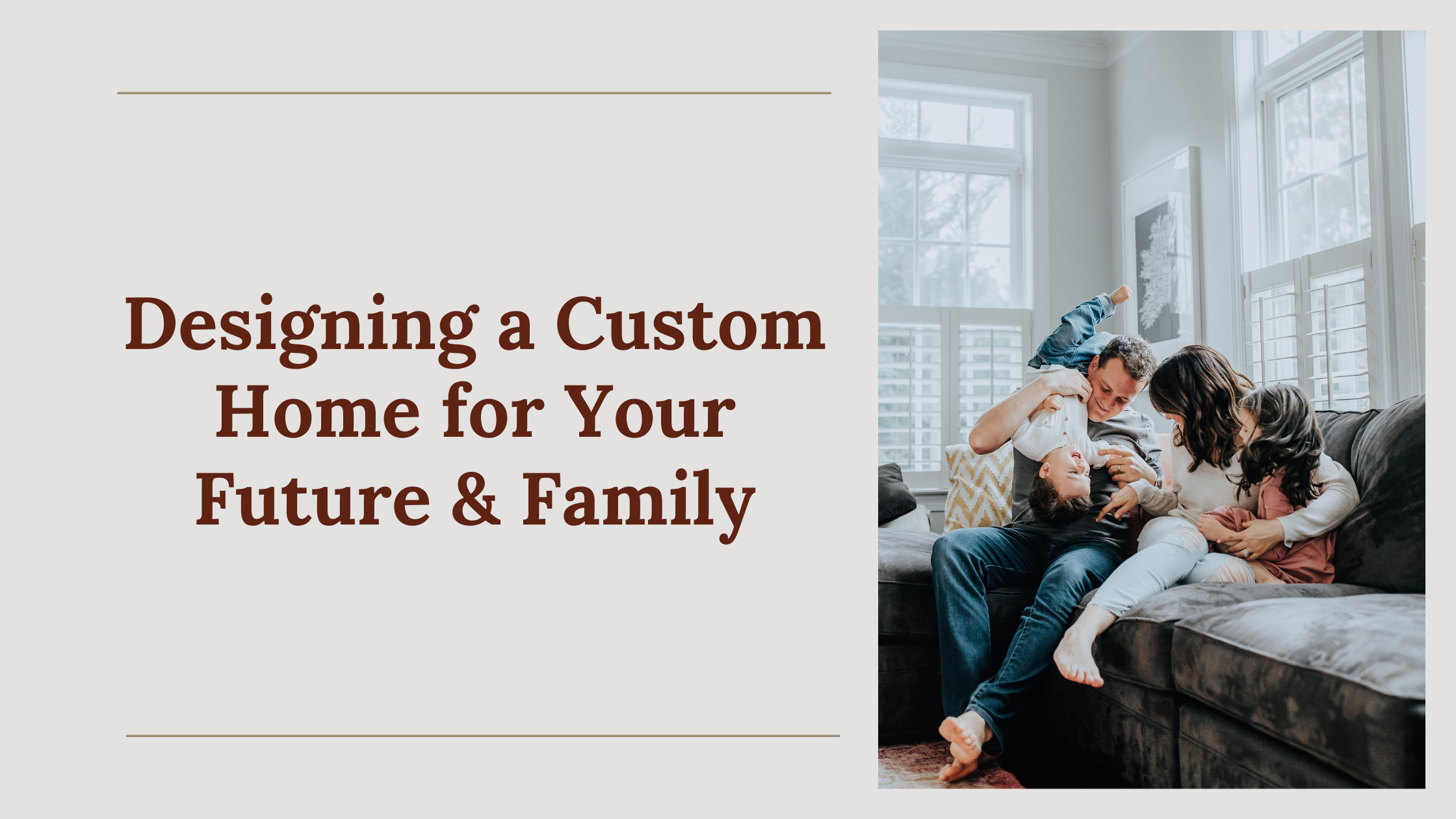 Designing a House: Tips for Building Your Future
The good thing is that you don't need to know how to design a house like an architect if you have the right custom home builders on your team. At Derrick Custom Homes, we have five decades of experience creating high-quality custom homes that stand the test of time for the families who live in them. With timeless and flexible design features, these homes also fetch top dollar if you ever need to sell. During the design and planning phase, we'll draft a blueprint of your dream home and discuss features that will take you and your family comfortably into the future:
1. Energy Efficiency and Comfort
For both economical and ecological reasons, as well as natural temperature control, we will help you plan a home where the windows, awnings, and rooms are arranged for optimal energy savings, natural light, and effortless year-round comfort.
2. Accessibility Features
Whether you plan a custom home with multiple stories, or just one, you'll want to plan for ease of access, whether you are planning to age in place, or have elderly relatives come and live with you. We can design accessible bedrooms and bathrooms on the ground floor in a quiet part of the house that could function this way, and as guest rooms as well. Adding grab rails in the bathroom and large showers with seating and other accessibility features is also a great idea.
3. Flex Rooms
Because it's hard to predict what will happen in the future, consider adding a flex room or flex space in your home that can be converted for different purposes. One very helpful flex room idea for the future is a guest room that can be easily converted into a home office. With clever custom cabinets, shelving, and roll-away furniture that adapts between a room for sleeping or a room for quiet work, this is a room that is sure to adapt when necessary. Basement flex rooms that can switch between workout space and children's play areas are also popular.
4. Outlets and Switches
These seem like a tiny detail, but if you plan to age in place, they can be a huge accessibility bonus. Having child-safe outlets and large switches placed at levels that could be reached from different heights is an incredible way to make accessibility easy and safe. Make sure that plug-in options keep cables and cords out of the way so nobody trips and charging stations are easy to reach.
5. Outdoor Accessibility
Outdoor living is all the rage, and why not? Being outside has significant mental and physical health benefits. Design outdoor living spaces that both shelter from the winter elements and keep the summer's heat at bay. Sunrooms and greenhouses close to the kitchen are great design elements to consider. Make sure spaces are large enough for easy access and include ramps for pathways instead of steps to make it easier.
6. Kitchens
Plan for plenty of space to move and work to accommodate family traffic. If you are planning to age in place, plan for some lower work counters and have your custom home builder work in some custom cabinetry with easy-to-use pullout shelves and drawers instead of cabinets where you have to dig around for things. Install appliances with control knobs at the front instead of on the back, and make sure there is plenty of under-cabinet lighting. Lazy Susans are also a super choice for cabinets.
7. Bathrooms
Walk-in showers or tubs are a great, accessible luxury item that everyone can use and enjoy for a spa experience. Hand-held shower heads and built-in benches and seats also make the experience easy and convenient. Add toilets that are a comfortable height, and a place at the vanity where sitting is an option. Grab bars by the toilet and in the shower are always a good idea.
How to Design Your Dream Home
Designing the perfect home for your future family and needs can be a challenge, but at Derrick Custom Homes, we make it easy and can help you create a custom home that will be a joy to live in for decades to come. Look through our portfolio for ideas, and schedule a consultation today!