Outdoor living spaces come in all shapes and sizes. It could be a simple patio, a screened-in porch with a fireplace, or a fully climate-controlled four-season room with a sitting area that doubles as a second living room. What makes a good outdoor space is all about how you'd like to use your outdoor space. As you prepare to plan for your custom home building experience, consider how you'd like to incorporate the outdoors into your plans. Here are the different types of outdoor living spaces you should consider for your custom home.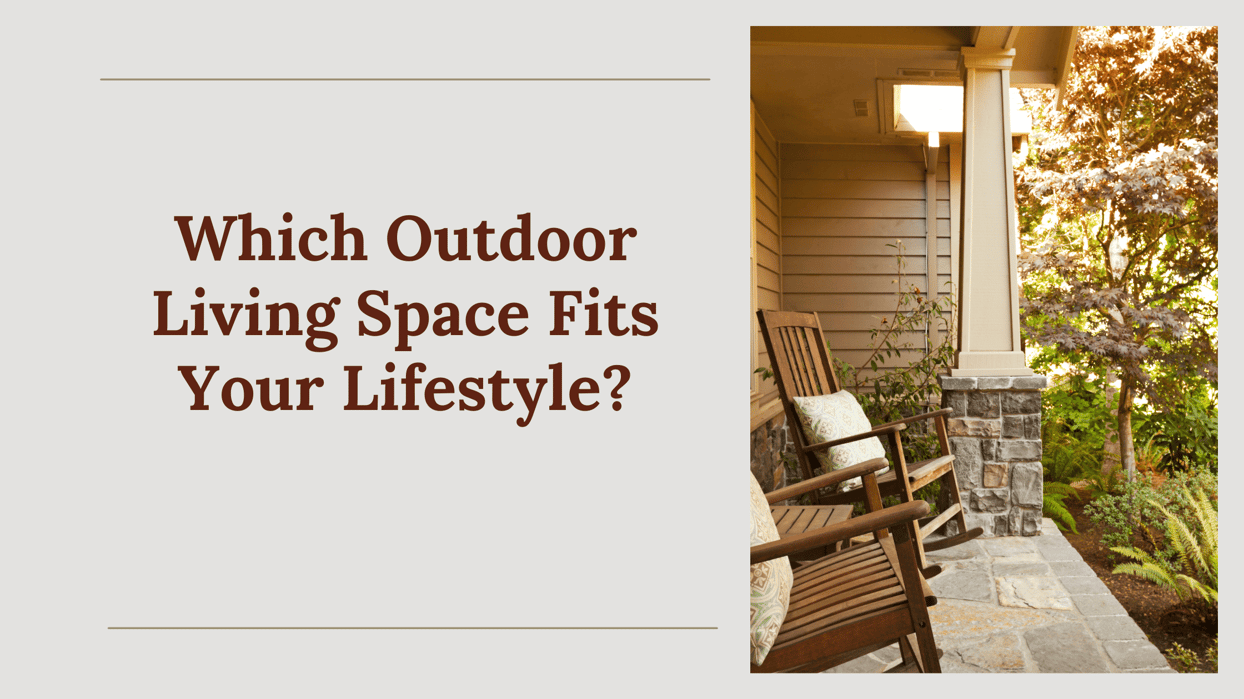 What Are the Different Types of Outdoor Living Spaces?
What is known as outdoor living space can be split into two categories: open air; and enclosed.
Open Air Outdoor Living Spaces
Open-air outdoor living spaces aren't climate-controlled and may be open to the weather and insects. However, open-air outdoor spaces are also more connected with the outdoors and make for a great transition space to your yard or pool area.

Porch
A porch, at its most basic, is an open-air extension on the outside of your home and includes a covering, which is usually an extension of your roof. From there, the potential variations of your porch are only limited by your imagination. It could extend the entire width of the front of your home or it could be as small as to be a covering for your front door.
A front porch could also be screened in, have railings and a banister, or be completely open with only posts to support the roof. Having a front porch that's at least big enough for a couple of chairs and potted plants is great for spending time in the evening to feel connected to your neighborhood, without even leaving the house.
The back porch is usually used as more of a living space than the front and also includes more variation than the front. Screen in the back porch to keep out insects and serve as a covered outdoor living room.

Deck
Think of a deck as a porch without a covering. It will likely be made of wood, or a composite material that looks like wood, and will be at the same level as the home. A deck is great for a lounge area, an outdoor dining table, a spot nearby to grill, or all of the above. Your deck can be off of any room with an exterior door, whether it's your kitchen, living room, or even the primary suite. A deck is also the go-to outdoor space to house a hot tub.

Patio
Patios can be attached or detached from the home and are always ground level, which is called 'at grade.' Usually, a patio will be a small slab or a sand and pebble base. Patios away from the home are great for a lounge area encircling a fire pit. Or, consider building a patio under your favorite tree to enjoy the canopy. Add some landscaping, like alpine currant shrubs, and you'll have a very pleasant and shady spot to enjoy morning coffee or an evening cocktail.

Enclosed Outdoor Living Spaces
Enclosed outdoor living spaces are also known as sunrooms and are essentially an additional room to your home that is also more connected to the outdoors. The comfort afforded by these enclosed spaces lets you enjoy a space that has more natural light and views of the landscape than a standard living space. They will include floor-to-ceiling windows, glass doors, and perhaps skylights.
Three Season Room
A three-season room is enclosed with glass, that can be enjoyed three of the four seasons. The three-season room isn't completely immune to the temperature outside, so taking extra steps to make sure your space is comfortable will be necessary if you'd like to enjoy your space even more.
To enjoy your three-season room during the colder months, thick rugs, heaters, and an electric fireplace will go a long way. In the summer, ceiling fans tinted windows to block intense direct light, or thermal curtains to use during the warmest part of the day, could curb increasing temperatures in the space.
Four Season Room
The four-season room takes the three-season room and controls the temperature to enjoy the space year-round. Three paned windows and a connected HVAC system keep this space just as comfortable as any other room in the home.
Use your four-season room to its fullest potential by leaning into the biophilic trend of filling your space with lush potted plants. It's an excellent space for them, especially in the colder months. You could also carve out a reading nook, include a daybed for midday relaxation, or a desk to add more sunlight to your winter work months.
Combining Different Types of Outdoor Spaces
There's no need to only choose one of these options. Many times, a family's lifestyle requires combining these different outdoor spaces. One example of this is a three-season room that leads to an open deck. It offers the option to create a more dynamic outdoor space that suits different seasons and activities.
A back porch is also great for an outdoor kitchen and bar that leads down to a patio for outdoor dining. Add a pergola for a little ambiance and you'll have an outdoor oasis you can use to entertain guests and host special occasions.
How to Choose the Right Outdoor Living Space for Your Home
First, consider how you are most likely to use your outdoor space. Have you said for years that you'd love to dine outside during the temperate spring months? Do you imagine hosting game nights in a space that feels close to the outdoors without the nuisance of insects or weather patterns?
If you're having a difficult time deciding which type of space would suit your lifestyle or the lifestyle you'd like, then consult a custom home builder who is experienced in designing these spaces around the unique needs and wants of every homeowner.
What Type of Outdoor Space is Included in My Custom Home?
If the custom home builder you're working with offers different house plans to work from, they might already include different outdoor living spaces. On the other hand, some may exceed what's already included. How you intend to use your home will determine if the added expense is worth the extra space. Chances are, if you are on the fence, you should go for it.
Derrick Custom Homes offers floor plans that already include a deck, a front porch, and a patio. If you're interested in including a sunroom, like a three-season and four-season room, you should speak with a professional home builder who can seamlessly connect the outdoors with the indoors through these outdoor living space options. Contact Derrick Custom Homes to talk about incorporating more outdoor living into your everyday life.