Home remodeling can be a complex process, but knowing the steps beforehand can make for a more stress-free experience. From noting ideas and knowing your budget to researching contractors and expecting challenges, we have your complete remodeling checklist to create a smooth process. What's everything you need to know before remodeling your home?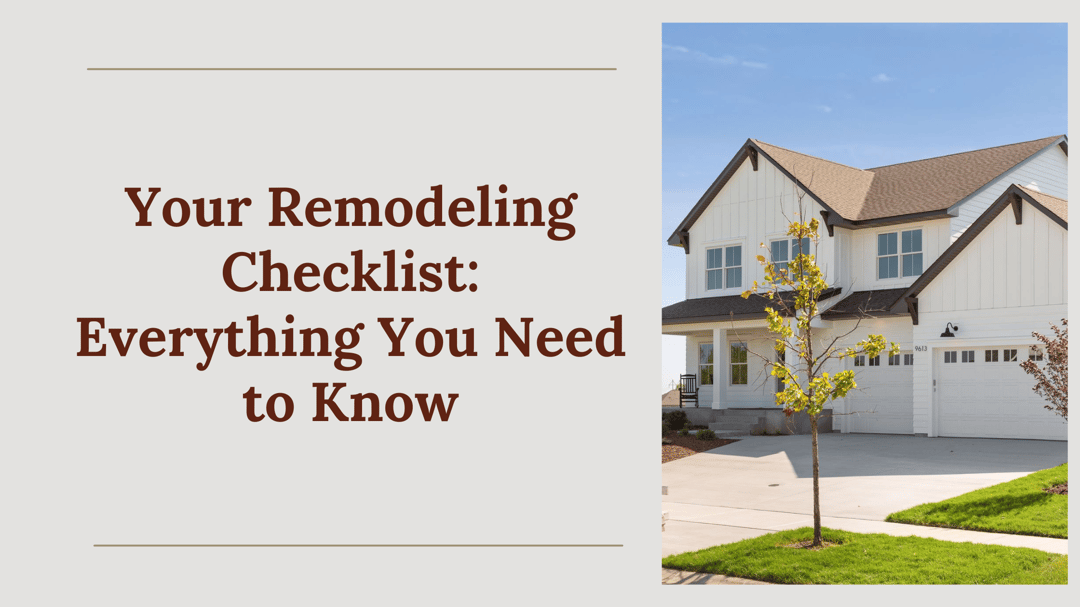 Outline Your Home Remodel Plan
Your plan will include your needs and wants, your available budget, and a timeline goal. Of course, each of these will affect the others, so your plan will likely shift to create balance.
1. List Your Remodeling Needs and Wants
Your remodeling journey starts with a list of remodeling goals that either come from frustration or just wanting to freshen up your outdated finishes. Some updates on your list are considered needs and others are wants. Be sure to list every remodeling goal and idea under each of these categories so that later, when you know your budget, you'll have a clear understanding of what is considered a top priority, and what can either be nudged off the list, or reduced in scope to make room in the budget for needs.
You may be hoping to expand and remodel your kitchen, install new flooring in the bathrooms, install custom built-ins in the living room, add a mudroom, or all of the above. Be as detailed in your plan as possible. Walk around your home and write down your challenges and what you feel would make your home more livable, whether it's structural or aesthetic changes. Be sure to include storage needs, lighting, increasing natural light, smart home features, layout changes, and additions. Nothing is too small or too big to include in your initial plan.
2. How Much Will Your Remodel Cost?
This will determine what items on your list will be accomplished. To get a preliminary idea of what your goals might cost, you can check the 2022 Cost vs Value Report and look at the general location of where you live, or even enter your zip code to get a more specific cost range. These are only general estimates that will most likely be a bit different, depending on the remodeler you choose, so don't scratch any remodeling goals off your list quite yet!
Once you have a general idea of what your remodel may cost, contact several local remodelers for estimates based on your goals. To best narrow down which remodelers in the Twin Cities you should spend time contacting, reference the section below about hiring a professional remodeler. During this consultation and interview process, keep in mind that a low estimate isn't always best. You may be sacrificing the quality of work and materials to get the job done, which will cost you in repairs and updates sooner than later.
3. Your Available Remodeling Budget
Outlining a budget can be complex, so take your time, get your calculator, and put pen to paper to figure it all out. Ask yourself these important questions:
How will your remodel be financed–a home construction loan, cash, or home refinancing?
What's your credit score?
What's your debt-to-income ratio?
Your credit score and your debt-to-income ratio will affect the loan amount you'll be offered. If either of these are less than ideal, consider improving them before taking out a loan. The best thing you can do is to talk to a few lenders to get an idea of how much you'd qualify for now versus how much you'd qualify for if those numbers were improved.
4. How Much of Your Budget Should Go to Each Room?
This is something that many homeowners don't consider when making a plan. It's important to not overspend or underspend in certain rooms, especially the kitchen and bathrooms. These rooms are easy to overspend because of how complex these remodels typically are. Instead, look at your approximate budget and allocate a certain percentage to each room.
Usually, you don't want to spend more than 15% of your home's current value on a kitchen remodel or more than 10% on a full bathroom remodel. Of course, these might change depending on some circumstances, such as structural issues, old plumbing, rewiring, or other problems that must be addressed.
5. What's A Realistic Remodeling Timeline?
Remodeling up against a deadline isn't the best option, so if you have an event planned or are expecting guests in a few months, it's best to wait until after unchangeable plans to start a remodel. Setting a timeline that's too short could cause several issues, including hurried work or being faced with the reality that it's just going to take longer than you hoped.
Remodeling your kitchen alone can take several months. A bathroom remodel can take around two months. This doesn't include unexpected delays with product inventory, inclimate weather, or lengthy design back-and-forth. When you're talking to remodelers in the Twin Cities area, be sure to ask about expected remodeling timelines. Keep in mind that your remodeler's subcontractors have timelines of their own. A plumber, electrician, or an expert tiler for the custom tile you're dreaming of may all have to be scheduled weeks or months out, depending on their availability. This is out of your contractor's hands, so the key is patience.
Steps to Hire Your Professional Remodeler
With so many remodelers to choose from, a simple internet search will get overwhelming pretty quickly. Based on your design goals, your budget, and your timeline, consider these tips on how to choose the best home remodeler for your project.
1. Ask Around
Your friends, family, and coworkers may have a few remodelers to suggest. Perhaps they've had a project completed recently, or know someone who has. This is a good place to start because you already have a reference built right in, without starting from scratch. Before you contact the company, however, continue with the following steps to make sure they're a good fit because every project is different.
2. Look Online
There are several websites that are a good source for finding a contractor. Houzz, Angi, and even Yelp can be great tools for narrowing down your search. Spend time on each contractor's website looking at past projects, reading their articles to ensure knowledgeability, and learning if they are experienced in projects like yours.
3. Check Reviews and Credentials
Regardless of if you are going off of a list of referred remodelers or online search results, dive into their reviews. They may have testimonials right on their website. Take your time to read plenty and you'll likely find a pattern. Do they have excellent customer service? Were they difficult to get in touch with? Make a note and further narrow down your list.
It's also very important to check their credentials. They should have insurance to protect their workers as well as possible damages that could come from an accident on site. Your potential contractor should also be licensed to work specifically in your state.
4. Interview Your Prospects
Contact the contractors that are left on your list to schedule a consultation. You'll describe your project, ask questions about their experience, and get a feel for their communication style and professionalism.
5. Ask for Estimates
Price will, of course, play a large role in whom you hire. Beware of notably low estimates. This will signal poor quality of work, or knowingly underestimating the cost of materials and finishes that will cost you more in the long run.
Preparing Your Home for the Remodel
There are many steps to take before the project begins to ensure the project runs smoothly right from the start.
1. Think About Storage Options
Do you have a sizable garage to store furniture that will be in the way? If you will have alternate living arrangements, perhaps your furnishings can be moved into other rooms. If your remodel will be substantial, consider renting a storage unit.
2. Consider Your Living Arrangements
You may be able to live without a kitchen, but living without bathrooms will likely be impossible. However, ordering food, interrupting your daily routine, and living with the noise and dust can be unbearable. Consider multiple living arrangement options and be sure to include this in your budget.
3. Take Before Photos
This is for a couple of reasons. You'll want to document the remodel in case of damage. If your job goes particularly well, you can give the before photos to your remodeler for their portfolio and to use for reviews.
During the Renovation
After you've chosen your remodeling team and signed the necessary contracts to start the job, there is a checklist of things to keep in mind.
1. Be Available
Your project manager, designer, and the contractor will need to be in contact with you for an endless number of reasons. To be unavailable could cause a delay in product substitutions, problem-solving, and many other adjustments needing your valuable input.
2. Be Flexible
As mentioned, delays can happen for a number of reasons. Weather, product availability, injury, and many more. It's important to remember that project delays are common and you will feel less stress if you plan ahead for flexibility.
3. Exercise a Security Plan
Will your contractor have keys? Is there a strict start and stop time for the crew? For peace of mind, create a security plan with your project manager and check in to make sure it's being adhered to during the project.
Your Ideal Remodel in the Twin Cities
From start to finish, remodeling a home has a lot of moving parts. To manage your home remodel, use this checklist and hire a custom home team that can comfortably guide you through the process. The best teams will practice seamless and transparent communication, in-the-field problem-solving, and excellent customer service. Derrick Custom Homes is a firm with experience building custom homes and skillfully remodeled spaces in the Twin Cities for decades. Contact us to schedule a consultation to begin your home remodeling journey.