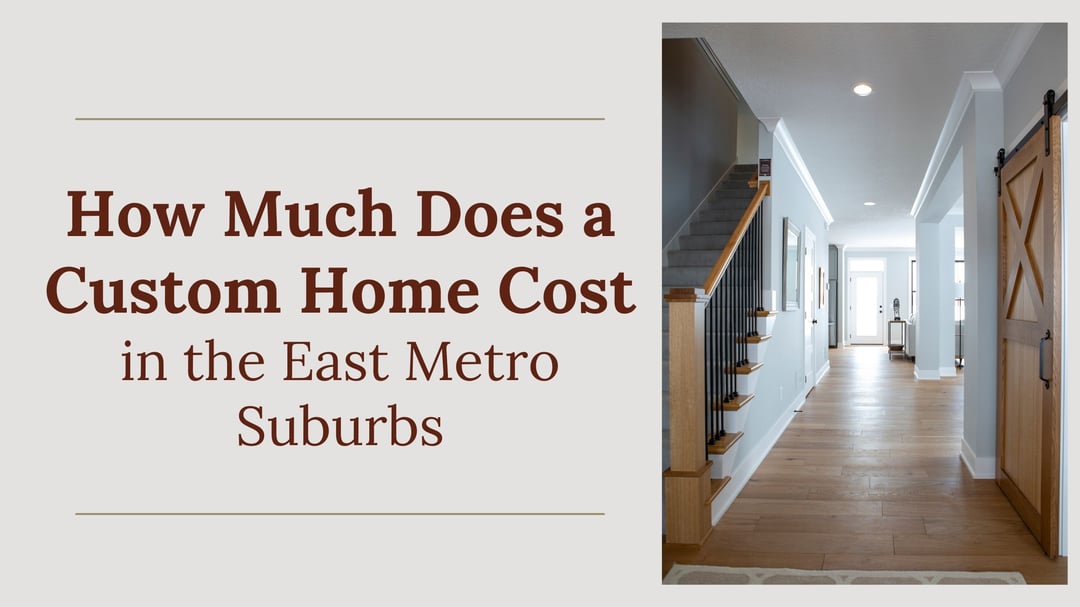 Cost is one of the first topics on a homeowner's mind when thinking about building a custom home. Every decision will factor into the cost, from the size and style to the flooring and fixtures. Getting a true estimate won't come until you talk to an experienced builder, but we can break down the average custom home costs, what to expect will be included, and how to keep costs under control to make sure your custom home will stay within your budget.
How Much Does It Cost Per Square Foot to Build a House in East Metro Suburbs?
You've probably searched online to find average costs for building a custom home in East Metro and have come across a wide range. Without knowing the specifics of your dream custom home, this can be a difficult number to nail down.
Because of this, it's a bit easier to give the average cost per square foot for a custom home rather than the total cost. On average, a high-end custom home can fall between $200 and $500 per square foot. Where your custom home will fall in this range, or beyond it, will depend on a few factors.
Land
Some clients will have already purchased land when they approach a builder. If your land has been developed and is ready for a custom home, you won't have to factor the cost of land and development into your final cost. However, if you are looking to purchase land and build the home using the same loan, your end cost will include the cost of land and the cost to prepare the land. This could include:
Water tap and sewer fees
Temporary electrical pole
Surveyor
Grading
Materials
Interior materials can account for up to 25% of your total custom home building cost when you count out the cost of land. Because of this, the materials you choose for your custom home can create hundreds of dollars in difference per square foot. When you're thinking about the style of your custom home, you're likely thinking about the details, like marble countertops, custom storage, and a stone fireplace in the living room. The materials that you'll need to choose for your home–and some that are a given–can include:
Countertops
Flooring
Trim
Lighting
Cabinetry
Paint
Plumbing fixtures
Insulation
Masonry
Drywall
Appliances, Smart Tech, & Energy Efficiency
Many homeowners today are looking toward the future in custom home amenities. Energy efficiency and smart home design can offer convenience, security, and reduced energy bills. In every room of your custom home, think about the features and amenities that could make life just a little easier if you choose these smart technology and energy-efficient features:
Radiant in-floor heating in the bathroom
Automatic light fixtures and shades
Smart appliances in the kitchen
Smart thermostat and home security system
Smart bathroom features (steam shower, vanity mirror, freestanding tub)
In-wall Bluetooth speakers
How to Control Custom Home Design Costs
The cost of your custom home can be kept under control to stay well within your budget if you and your designer keep certain things in mind.
Be Flexible
Your designer will be able to guide your choices throughout the process if you communicate where your priorities are and where you're willing to compromise.
For example, if you dream of Carrara marble in the bathrooms, then balance your materials budget by choosing durable wood-look ceramic tile flooring rather than hardwood. If solid wood custom cabinets in the kitchen are a priority, balance the budget with midrange energy-efficient appliances rather than commercial grade.
Don't Rush the Design Phase
Designing and building a custom home is an exciting process and you may be counting the days until you and your family can move into your new space. However, rushing through the seemingly endless list of decisions during the design phase can mean costly changes later during construction.
Change orders are the changes made during construction when a material is swapped out for another. Sometimes this can be because of a delivery mishap, but many times it happens when a client changes their mind about the flooring, countertops, tile, or other material or structural changes. You can avoid changes by taking your time during the design phase and really weighing all of your options before the design is finalized.
Consider What's Not Included
There are many parts of the custom home process that aren't included in the estimate. When you add these costs after the fact, you're likely to go well beyond your budget. To control your budget, be sure to consider these costs:
Interior design services
Furnishings (window treatments, rugs, furniture, etc.)
Landscaping
Outdoor living spaces (if they aren't part of the custom home design)
Building Your Custom Home in East Metro
A custom home is a big investment, not only in terms of money but also in time and trust. When you're ready to take a closer look at the costs involved in a custom home, talk to an experienced professional builder that can answer all of your questions.
Derrick Custom Homes is a custom home building and remodeling firm that has been designing and building homes in the East Metro area for over 50 years. During that time, we've enjoyed serving our clients, earning their trust through transparent communication, and delivering beautiful homes that are both current and timeless. Contact us to schedule a consultation and we'd be happy to tell you more about our process.