Whether you've outgrown your current space and need to relocate within your hometown or starting fresh in a brand-new location, you may be deciding between shopping for an existing home or building a custom home exactly to your specifications. We would love to help you make an informed decision, so we're here to help you dig into the pros and cons of buying vs. building.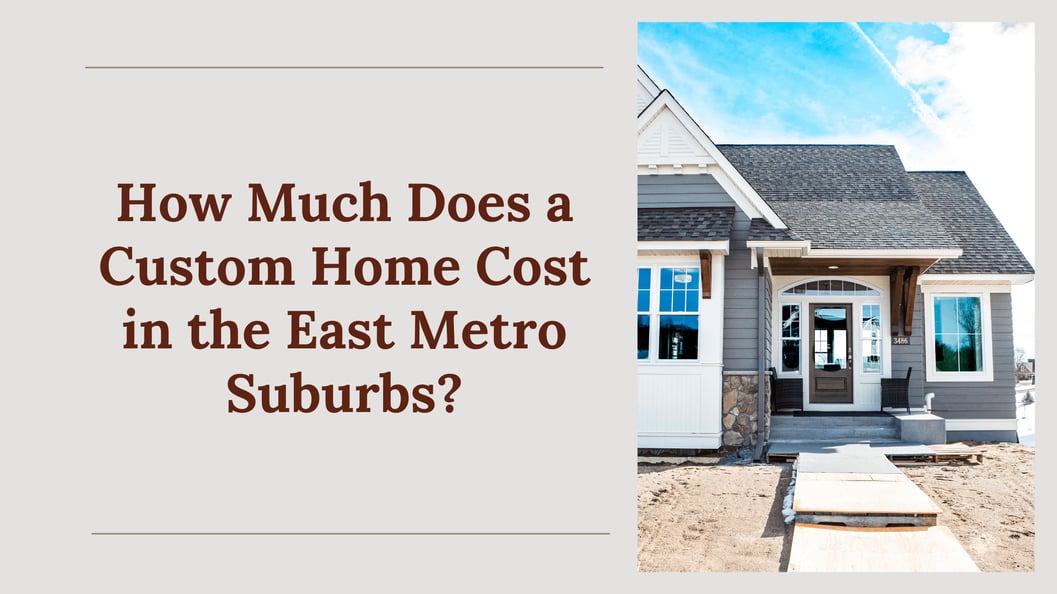 At Derrick Custom Homes, we know we're a bit biased towards custom remodeling because we've been in the business for more than fifty years. We also know that this can be a once-in-a-lifetime decision and investment. We would love for you to benefit from our conversations with so many families who have stood where you now stand, whether or not you choose to build with us in the East Metro area.
We've refined our home building process over our years in the East Metro area and are confident that we offer the most client-friendly process and stunning results in the area.
We understand that smart consumers shop around! We're confident that you will choose to work with us after you've concluded your research. If you're considering hiring a builder for your new construction project, you may find our recent blog posts on how to choose a custom home builder and interview questions for your prospective custom home builder helpful.
How Much Does It Cost to Build a Custom Home in Wisconsin?
Many clients come to us interested in the financial details of building a new home. Until we have a chance for our architect to draw a custom home for you, it is tough to ballpark a number without putting it through our pricing process. The median construction price is generally lower in the south and midwest than on either coast. This is good news for us in the East Metro area and Western Wisconsin, but prime real-estate in well-developed areas costs more than more rural areas throughout the state. The cost of building a house includes the cost of new construction only.
The cost of new construction consists of the following:
Labor
Materials
Permits/administration
Many of our clients find our new developments attractive because they significantly reduce the cost of preparing a lot for new construction.
The lot-related costs associated with building a new house include:
Lot purchase
Preparing the lot for construction
Utility hookup
Architecture services
New developments also allow new communities to grow together and encourage new homeowners to be new homeowners together, which fosters a thriving and tight-knit community. Many builders include semi-custom homes where some aspects of the house, such as the layout, are not changeable within these new developments. This reduces some of the costs of custom homes but allows new homeowners to pick the finishing touches like appliances, cabinets, fixtures, and countertops.
Check out some of our most recent developments in Baytown and Hudson for examples of the character and charm that building in a new development can offer!
How Do I Estimate the Cost of a Custom Home?
The cost of your custom build will depend a lot on the materials you choose. Most estimates will divide the total price by the number of square feet to compare different sized spaces. Most homes cost between $100 to $400 a square foot. Custom homes cost between $200 and $500 a square foot. We understand that this is a vast range, but with so many custom features in our homes, this can impact the overall cost of a square foot.
Premium upgrades to flooring, appliances, countertops, and fixtures increase the cost per square foot of new construction. Luxury homes are more likely to use more costly materials like stone, wood, and marble throughout. Most people who build a house build a larger one than most people who buy a home, meaning luxury homes are usually larger, which also drives up the cost per square foot of the estimate of a custom build.
How Much More Expensive is it to Build a Custom Home?
Consider that when new construction comes with a slightly higher price tag upfront, homeowners may still realize significant savings due to energy efficiency and significantly reduced maintenance costs.
The cost of building a new home is only slightly more than building a new home within the same market more often than many people expect. Many factors drive up home prices in this current market, making your custom home build more feasible than you think. We explore this possibility in-depth in a recent post about the pros and cons of building a custom home.
Build the Best Custom Home in the Twin Cities
If you're leaning toward a custom home in the Hudson, Wisconsin area. Derrick Custom Homes will deliver results that exceed your expectations and meet your specifications. We know what a big investment of time, money, and energy this process can be, but it doesn't have to be stressful. You deserve an experienced, dedicated team every step of the way. Reach out today to schedule a consultation with the home building experts at Derrick Custom Homes to discuss your new home dreams.