If you're looking to build a small custom home, you probably have some experience or have been shopping around. Either way, you're doing your research and have discovered that smaller custom homes are an excellent value.
We know there may be some confusion around what a twin home looks like and even means. To clarify, custom twin homes are different from condos or apartments. A custom twin home is a smaller house with another twin home mirroring it, right next door. It is similar to a townhome but with no shared wall and each unit is separately owned and titled. And in this case, each owner creates the customizations they want inside their own home so that it is tailored to their exact family needs and desires for their space.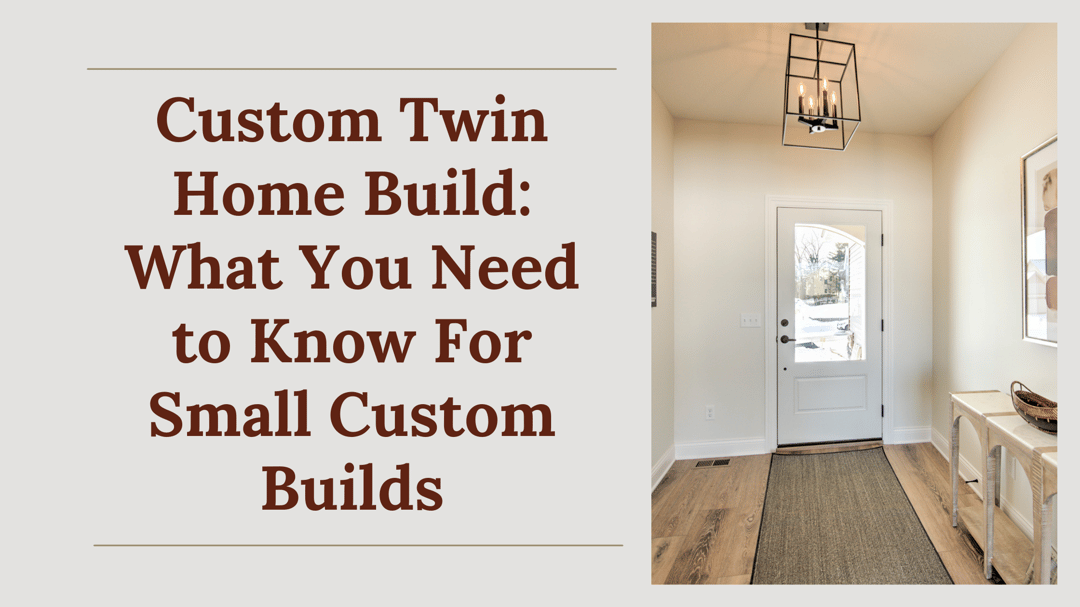 The reason custom twin homes are so popular is that they offer a unique design with a modest price point. So you don't have to remodel and work with what you have but can get the full customizations of a custom home build without the higher price tag. As you continue to research your options, take a look below at all the items we recommend doing as you plan out your next steps in relation to building your custom twin home.
Building a Custom Home Checklist
Here at Derrick Custom Homes, building small custom homes to suit the needs, desires, and lifestyles of people just like you is what we do best. To build the custom twin home you envision, you need a custom home builder with decades of cumulative experience, a track record of success, and a serious competitive streak. To get started on the home you've been dreaming of, you only need to follow a few simple steps.
1. Nail Down the Deal Breakers
By "deal breakers," we mean things you can't live without and things you won't accept. Oftentimes, a custom home, or in this case a custom twin home, is designed around one or two simple ideas that embody the thing the owner wants most. These could be a prominent windowed turret, a conversation pit, a specialized bay window, an interior entryway balcony for greeting gatherings, a spiral stairway, and much more. Things a custom homeowner might not tolerate could be low ceilings, a street-facing garage, an entryway with an interior door, a narrow living or bedroom, windows in a child's room that have a low bottom edge, and more.
A good place to start is with the one feature you think of most when you consider the benefits of a custom-built home. So what are you dreaming of? Is it a full-window wall, a sauna/spa-style bathroom, a bay window, or perhaps a massive Italian-style kitchen? Or is it something else? This will be the starting point and the central organizing principle of your small custom home.
2. Vet & Assemble Your Build Team
Your next step will be to start looking for your custom build team. But how do you find the best builder for your home? A good place to start is to go down a list of leading custom home builders in your area. Check their online reviews. Look at examples of their work if you can find them. It might even be a good idea to drive to locations to see their work in person, if possible. If you can get a tour of a home they have built, even better. A good custom design and build team will readily offer references, licensing information, and examples of their work.
3. Find a Build Location
Next, you'll want to find a location to build on. Since we're going custom here, the placement and quality of the lot are important. Also, a good custom design and build team will have high-quality open lots available for you to choose from. This is a good way to simplify the process, keep the paperwork to a minimum, and save some money. A design/build professional with access to lots can help ensure the land is inspected and suitable for utilities. Most importantly, they can help provide your dream home with unbeatable vistas toward which to aim those big custom windows. At Derrick Custom Homes we offer land with almost all of our builds so you can enter into this part of the process worry-free.
4. Work With Your Build Team to Settle on a Home Design
Once you have a basic vision of your home in mind and have chosen a qualified team to make it a reality, it's time to start hammering out the details. Experienced design professionals know how to translate your ideas into functional schematics and deliver plans that engineers and contractors can construct. The important thing is to communicate the details that are most important to you so that the architects and engineers will know where to make compromises and where compromise is not an option.
5. Track the Construction Process
Finally, your ongoing input will be a key part of the construction process. In every custom build, important decision points will arise, and only you will know for sure what's most important when architectural schematics, engineering principles, and material science seem to conflict.
A qualified design and build team won't make critical decisions without your input, and they won't walk off the job until you're satisfied with the result.
Are you looking for the home of your dreams? Tired of looking for perfection in other people's designs? Let Derrick Custom Homes bring your ideal house to life.
Derrick Custom Homes was founded in 1967 and is a leading custom home builder in the Western Wisconsin and Eastern Minneapolis/Minnesota areas. Our mission is to deliver personalized, custom-designed homes based on your wants, needs, and lifestyle. Get in touch today to learn more.