For many of our clients, building a custom home is a once-in-a-lifetime experience. As the culmination of savings, dreams, and hard work, building your own custom home is such a huge goal and milestone. If you're just looking to upgrade or relocate, consider building a custom home as our clients never regret it.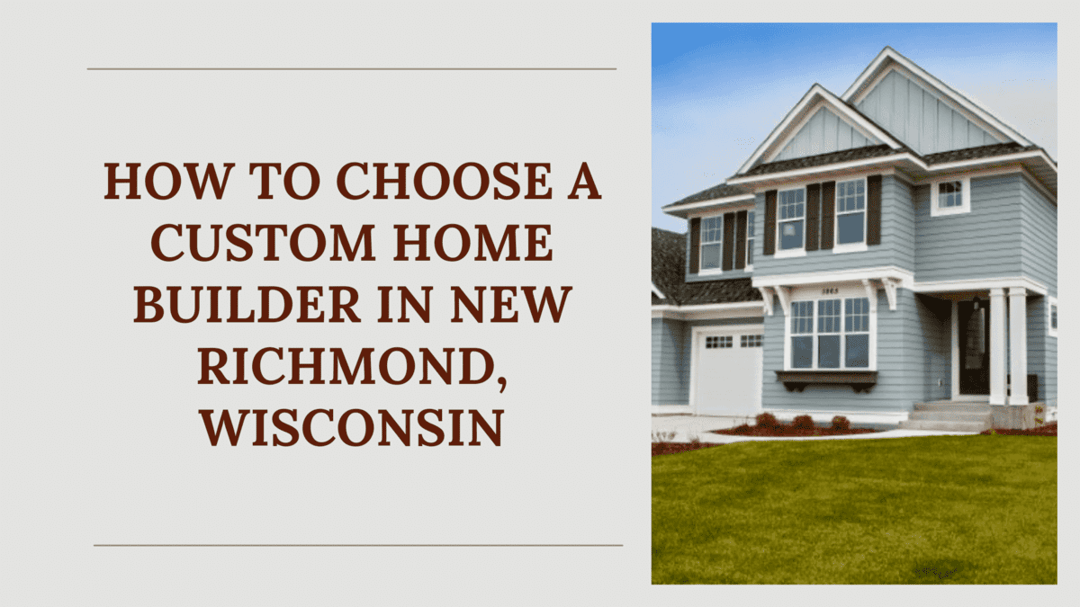 At Derrick Custom Homes, we've been in the business for more than fifty years. We're the trusted experts in the New Richmond area, but we know our insight can help whether you are in Western Wisconsin or just East of Minneapolis. We're here to use our experience and expertise to make sure you set yourself up for success when selecting a custom home builder at the beginning of your journey.
What to Know Before Choosing a Builder
When choosing a home builder it is important to have established some details related to your project. Before you speak with a builder, consider the following aspects of your project to get the most from your builder interview:
What kind of services do you need?

Do you need help purchasing a lot? Do you need help finding a neighborhood? Many people are surprised to find they would benefit from a realtor when planning new construction. And at Derrick Custom Homes we have a team of realtors to help you navigate this part of the process.
Are you interested in meeting with designers or architects? Many custom home builders have teams of experts such as these on staff to ensure that they can deliver a truly customized experience.

What is the size of your project? Are you in the market for a smaller custom build, a luxury dream house, or possibly both?
What is your budget? What is your plan for financing? Understanding the ins and outs of new construction loans can be daunting and meeting with an agent for a construction mortgage pre-approval can help you understand how the process will work in your specific case. It will also assure your prospective builder of your credibility and ensure you start off your custom home journey with false starts or disappointing news. At Derrick Custom Homes we have a list of recommended loan officers that we work closely with and who can guide you through the financial process in its entirety and ensure you have all your ducks in a row.
What is your timeline? If there is a specific window in which your construction needs to be completed, this may exclude some contractors from your search. Realistic timelines for your custom home projects vary greatly, depending on your location and plan.
Finding the Custom Home Builder who is the Best Fit for You
Of course, the custom home builder is the best builder for you. When choosing a custom home builder, intangible things matter too. When you speak with and interview prospective builders, you deserve thoughtful, professional services as you anticipate such a huge investment. Here are some factors related to fit to consider when selecting a builder.
How do you feel when you speak to the representative from the builder's business? Do you feel that your questions for your home builder were answered? Are you happy with the time and attention spent with you?
What is the builder's preferred method of communication? How well do their digital, email, and call preferences for big and small matters match yours? If you hate lengthy phone calls, for example, it might be helpful to know who likes to use this as their primary method to reach clients.
Does this builder have experience with similar projects? A builder who routinely completes projects like yours has

an established plan

, a trusted team and is used to dealing with common problems or setbacks. Nobody wants their contractor winging it.
Does this builder's portfolio appeal to you? Though we're very used to accommodating a wide variety of tastes, finding a builder who routinely executes projects that fit your vision will increase the likelihood that you are happy with your end result.
How many projects does the builder complete at once? When would they be available to begin your project?
When and how will subcontractors be used? It often makes sense to use subcontractors for specialized tasks during new construction. Established builders have established relationships with local subcontractors and will be able to tell you about them specifically.
How Do I Check My Builder's Reputation?
When such a large purchase is at stake, it is wise to be extra vigilant in vetting everyone involved. Choosing a reliable builder is one of the most important steps in the planning process. Here are some ways to ensure that your builder is reputable:
Your custom home builder will be licensed and insured and happy to provide you with information about it.
Client testimonials and reviews will help you consider the pros and cons of working with a builder from the client-side of the table. Information from people in your position can be invaluable.
Would your builder be willing to put you in touch with past clients? A conversation might reveal more than a written review and allow you to ask questions about the things that matter most to you.
A reputable builder has a deep portfolio of completed projects for you to review. Check out their galleries or communities and ask for more if necessary.
Let Us Help You Make it Happen
If you are ready to have a conversation about bringing your custom home into reality, schedule a consultation with Wisconsin's premier custom home builders today. As area experts for more than fifty years, we know what a difference experience and excellence make every step of the way. We can't wait for you to experience it for yourself and join our happy clients in the design-built home of your dreams!