We are so excited to show you what we're planning for our latest development. Welcome to Meadow Ridge of Troy, an expansion of the already vibrant Meadow Valley neighborhood! Spots filled up fast in Meadow Valley and we worked hard to offer more of what we know our clients love! We are thrilled to offer the opportunity to experience this wonderful family-friendly location and the wealth of nearby amenities that make this new development the ideal candidate for your custom family home.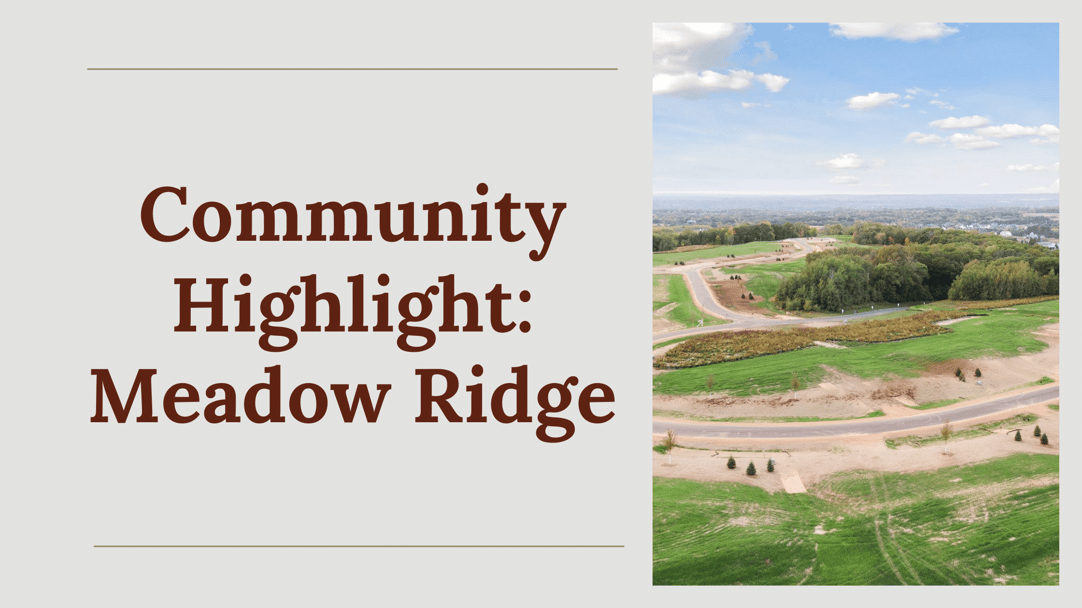 After fifty years, we are experts in the pros and cons of building a custom home. Many families are truly surprised when they begin to plan their journey to their next new home and discover there may be more beneficial to building a new home rather than purchasing a pre-existing home, even when the cost is taken into consideration.
Check Out What We're Planning in Hudson, WI
The promise is bursting out of every aerial image! Meadow Ridge of Troy is nestled in a scenic hilltop clearing and overlooks a breathtaking seasonal forest. Signs of humming civilization and pristine nature appear at peace in this idyllic panoramic view.
Check out our development plan and available plots. This neighborhood layout balances individual space with community, ensuring your privacy, but promoting opportunities to gather with looping roads and plenty of cul de sacs for kids to play. Imagine yourself strolling these winding and picturesque streets on the way to your neighbor's to share a beverage. We can absolutely make it happen.
Neighborhood Highlights
We've had our eye on this area for a long time and are thrilled to recommend it as one of our favorite places to build a home in the St. Croix Valley. Here are some of our favorite things:
Shopping- This neighborhood is not far from just about every kind of shopping you might need or enjoy.

Big Box Convenience- Meadow Ridge is just minutes away from convenient staples like Walmart and Target, stores that are open late and are sure to have just the right thing in stock when you need it so that you can zip home and get on with your day.
Downtown Hudson is also right down the road. This hearty downtown area packs boutique and personalized shopping experiences and ultra-special community events like holiday candlelight strolls.

Dining- There are too many dining options to discuss. If you have a favorite chain restaurant, it is very likely on the nearby roster for a bite to eat in the area. Because everything is so close, you are sure to be in the delivery zone on your favorite food delivery service for those busy evenings or lazy weekends.
Schools- Nearby school districts include coveted River Falls Schools and UW-River Falls. The nearby districts include excellent preschool through secondary schools and charter and virtual options, to be sure children receive outstanding educational opportunities at every level.
Amenities- This vibrant community offers close access to many of the services and experiences you need. Some of the most unique to this area include:

St Croix River Access- Hike the trails at St. Croix National Scenic Riverway. Enjoy camping, fishing, hiking, and kayaking. Check out, Fairy Falls!
Troy Burne Golf Club- Enjoy 18 holes on this lush and scenic course. Having this gem as your home turf is certainly an attractive bonus!
Downtown Hudson offers plenty of local music and drinking establishments to support a fun night on the town.
Lots are Available For Purchase
Lots in Meadow Valley were quickly snapped up and turnover is low. We know that residents in this area are in love with this beautiful location, thriving neighborhood, and their own luxury custom home, and we're confident you will too.
If you've got your eye on a lot, we recommend you connect with Jay Fletch at Edina Realty as he is the go-to-realtor for this location. We know what a difference having an expert realtor on your bench can make during your custom home journey. We love having Jay on staff and know you will love him too!
We Would Love to Help Your Build Your Dream Home
If you're ready to take the next step in your dream of having a custom home, schedule a consultation with St. Croix Valley's favorite custom home builders today. With 50+ years of home building experience, we know we can deliver the kind of results you're looking for. We can't wait to put our experience to work for you at Meadow Ridge or anywhere else in the East Metro area.