You love your farmhouse design and decor, but you have spent so much time staring at the walls over the last two years that it's time for a change! If you're in the market for a design refresh in 2022, or if you're lucky enough to be designing a brand-new space, we've got you covered!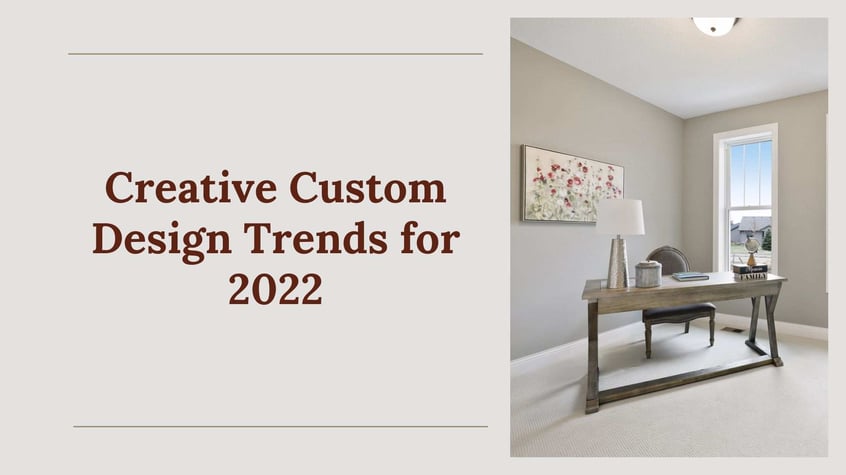 For more than fifty years, Derrick Custom Homes has watched trends change while delighting customers in East Metro. We help with everything from selecting the perfect location to the ultimate kitchen countertops! As a design-build firm, our ability to execute the latest and greatest is part of the job description.
Custom Home Design Checklist
Want to avoid common mistakes when designing your custom home? Here are some things to do before you contact a home builder to start your custom home journey:
Design Trends for 2022
Layout Trends
Modular Design-Modular homes are partly built in a factory setting and assembled on site. These homes are making significant strides in luxury and quality and are trending in 2022.
Modern Layout- Boxy, modern designs are on the rise in 2022.
Twin Homes- Twin homes are a bit like duplexes in that they feature two homes that share a common wall. They often have a mirror or twin layout. The main difference is that each occupant owns the land under their house.
Decor Trends for 2022
Curves-from coffee tables to kitchen counters, austere curves, and soft, curvy shapes are smooth and inviting.
That '70's Vibe- Velvet upholstery, funky and bold color combinations, and spindly legs are fantastic examples of seventies style done right in 2022.
Welcome to the Jungle!- House plants and natural touches create a serene and lush vibe. Design your space with sustainable, gorgeous materials to channel peace and zen into your everyday surroundings.
Sustainability- Employing reclaimed materials, upcycled pieces, and vintage furniture reduces the consumption of cheaply made fast furniture

in a world of rising prices

.
Exterior Design Trends
Earthy Brown- Relaxing and calm, cool earthy-toned exteriors are popular for 2022.
Texture- Add texture with siding, shutters, custom copper art, or stamped concrete.
Outdoor Living Rooms- Outdoor spaces that live like indoor spaces have become popular as many visitors lean towards outdoor visits. Entertain in style no matter where your visitors gather!
Kitchen Design Trends
Custom Storage Solutions- Removable backsplashes that hide storage compartments, hidden storage within the kitchen island, cupboards sized for your unique storage needs. Custom and thoughtful cabinets are trending throughout new homes in 2022 but are a must for any new kitchen built this year.
Kitchen Island Innovation- custom storage, built-in appliances, curved counter space, many of the hottest trends are demonstrated in kitchen islands. Consider two islands with unique functions (e.g., prep, entertaining, homework, and art).
Black Accents- Black accents such as pulls, faucets, and fixtures rose to popularity last year and continued into 2022. Touches of dark pop and sings against various design and color choices.
Check out our portfolio for some kitchen design inspiration!
Home Office Design Trend
Micro-Offices- Your home may not have been designed with an office space, but you likely have untapped options for creating one. Try a corner of the living room, multi-purpose space, or convert a closet or alcove.
Statement Lighting- Good lighting is a must for any home office! Try funky track lighting or lanterns!
Plush Upholstery- If you're going to spend the day in your home office chair, make it a luxurious throne!
Dedicated Activity Spaces
Homework Room- With the advent of virtual school comes, the advent of home-school spaces. Limit distractions, structure separate areas, and plan for storage and success with a homework room in 2022.
Multi-Purpose Spaces-Some rooms can serve multiple purposes in order to provide the maximum function with limited space. The multi-purpose spaces of 2022 combine workout areas, guest rooms, home offices, and more.
Meditation Room- Quiet, minimalist spaces with natural decor and room to move, meditation spaces embody the simplicity and calm we all crave in 2022.
Home Theater- Experience the utmost in viewing luxury without leaving your home. There's no reason to miss out on the movie theater experience in 2022 if you take it home with you!
Outdated Design Trends for 2022
Open Floor Plans- Many people have learned that there is such a thing as too much togetherness. Designated spaces organize our activities and allow for small amounts of privacy. The floor plans of 2022 make smart use of structure and space to balance the feeling of both.
Monochromatic Neutrals- White and gray have dominated the decor landscape for a long time. We're seeing bright and bold pops of color and commitment to personal expression splashed throughout the design plans for 2022.
Single-Use Spaces- Why tolerate a unitasking space? Hide a murphy bed in your office; build an office space, into your home gym; create a reading nook in your dining room. Get the most for your money and customize your space to meet your needs.
Let Us Help You Make it Happen
At Derrick Custom Homes, we've been building timeless and trendy homes and remodels in the Twin Cities area for more than five decades. We are confident we can deliver the results you've been dreaming of! Reach out today and schedule a consultation.