Over the past year, many families looking at building a custom home in Wisconsin or Minneapolis have asked us: "Why are lumber prices so high in 2021?" With supply chain shortages and disruptions brought on by the pandemic, prices for a wide range of building materials that go into custom home building have been fluctuating at levels many families find disconcerting. Yet, for those of you wondering if lumber prices will soon drop, there is some good market news. We have seen lumber prices falling quite drastically in the past several weeks. Here at Derrick Custom Homes, we follow these trends intensely, and the good news is that the lumber prices for the 2021 and 2022 forecasts seem to be mellowing out finally. After a steep rise late last year, there has been a bit of a dive for everything from pressure-treated lumber prices and rough cut lumber prices to walnut lumber prices, cedar lumber prices, and all kinds of other hardwood lumber prices. So, is now the right time for you to build your custom home with materials prices leveling out? If your finances and plans are in the right place, the answer is probably yes—but not for the reasons you may think. Let's discuss…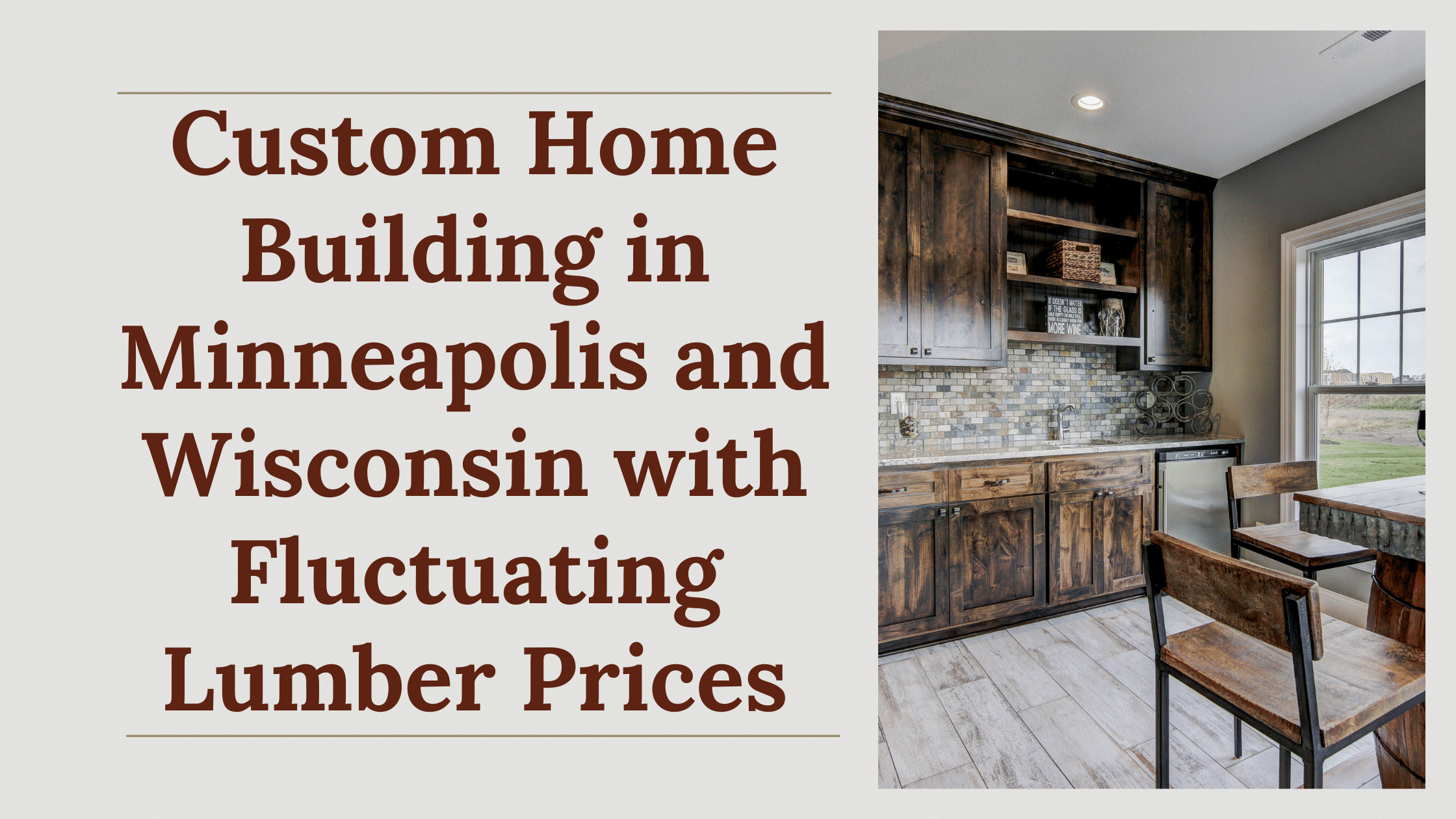 What Are the Current Lumber Prices?
As of the writing of this article, lumber futures have dropped to about $500 per thousand board feet. At its dizzying height in May, the price was a shocking $1711.20 per thousand board feet. Overall, Minnesota and Wisconsin lumber prices reflect those around the nation as well. Of course, these are the numbers for today. There are so many factors that go into the price of lumber (and other important building materials) that by the time this is published, the prices will have changed again, but hopefully not by too much. Some prices will rise, some will fall. But for now, the prices seem to have stabilized.
As Minneapolis custom home builders, we can tell you that some of the factors that may impact 2x4 lumber prices, framing lumber prices, treated lumber prices, and all others, include the overall availability of current housing, the demand for new construction, along with weather factors such as hurricanes in the southeast. These all put pressure on lumber supply and demand. Prices can also put pressure on lumber mills, which in turn are affected by labor shortages that may happen. These actions can, in turn, impact lumber prices. And you never know when ongoing supply chain issues will be impacted by a host of other economic issues and world events that may cause a lumber shortage. So, while current hardwood lumber prices have fallen, and may fall a bit more still, there's no way to predict exactly what will happen in the future. This is why the best time to build your custom home is whenever you and your family are ready to do so.
Are You Ready to Build a Custom Home?
One of the other factors in answering this question, regardless of building materials prices, is the availability of currently existing housing that will suit your family's needs. For many families in the area, the answer is: "No. There isn't any current housing that fits our needs." Housing availability is tight now, competition between homebuyers is intense, and this is for homes that might not truly meet your needs without significant remodeling.
Another factor is location, location, location. You may desire to live in a specific area for proximity to good schools, your work, and other amenities. Yet again, the availability of homes in your target area may be very low and not suit your family's needs. Derrick Custom Homes has a collection of lots and developments throughout western Wisconsin and the Twin Cities areas with land available for building custom homes right now. These developments are ideally situated in great locations so that you can eliminate the hassle of searching for land by yourself.
Of course, the benefits of building a custom home are numerous and worth the investment. You can work with our experienced custom home experts to plan and create exactly the floor plan and features that you and your family want and need. If your family is growing, you can build a house with the space, features, flexibility, and storage requirements you need. If you are retiring, you can design a custom home with a wide variety of accessibility features and room for visiting guests. We can help you design an energy-efficient, convenient and beautiful home, helping you tailor the plans to your exact requirements. We can guide you through the process of planning to build according to your tastes with an eye to flexibility for future needs and long-term durability and marketability. That is, we can help you create a design that doesn't just fit today's trends, but that has a timeless, classic quality that homebuyers will crave if you ever need to sell your home down the road. In the meantime, you'll have a custom home that fits your family perfectly.
So, regardless of how building materials prices fluctuate (which they always do to some extent) if you have already been saving money for a home down payment, have your finances in order, and have a clear idea of what you need in a home design, there's never been a better time than the present to start the process of building your own custom home.
Visit with the Custom Home Builders Wisconsin Families Trust
If you are eager to start making your custom home dreams a reality, schedule an appointment today to discuss your needs with Derrick Custom Homes in western Wisconsin. With 50 years of experience bringing our customers' dream homes to life, we can help you achieve your goal of a beautiful, functional custom home.