For many of our clients, this is a once-in-a-lifetime opportunity to design a space that looks and feels just right! If you're interested in a custom home, it's because you care about the details. That said, sometimes there are details that newbies to the process don't yet know to consider. Here at Derrick Custom Homes, we've got you covered. We want you to get the most out of your planning process so that you get the most out of your custom home project!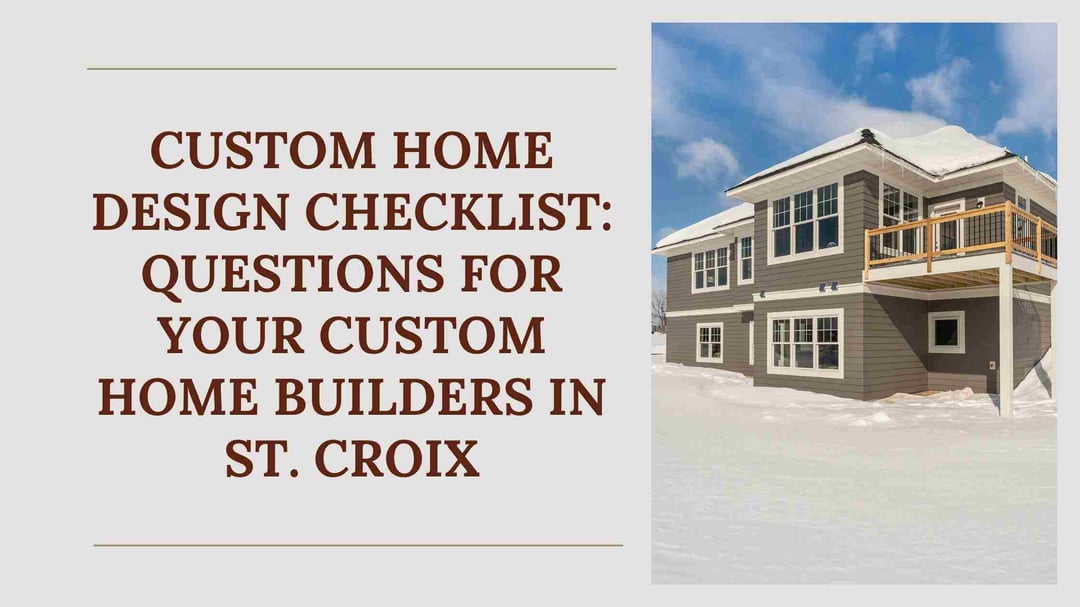 Here's a list of interview questions for your custom home builder to help you select the best fit for you and your situation. It's chock full of things we wish more people would ask us about, and things we know the average prospective custom home buyer may not know to ask!
Questions to Ask a Prospective Custom Home Builder:
What is your design/build process?
Everyone has their own style and their own order of operations. When your dream home is concerned, vague answers can be a red flag. Here at Derrick Custom homes, we have a clearly articulated build process that puts the hard work upfront and eliminates surprises down the road.
Will you build on a property I have already purchased?
Not everyone will. If you're looking for a lot, you may be going through your search in the wrong order. Don't worry, however, if you have one! Although that's not how we do the majority of our builds at Derrick Custom Homes, we are happy to talk through the process of building on a property you have secured yourself.
Do you help with purchasing land?
We typically meet our clients in the early stages of their process. We frequently build custom homes in developments, and can therefore offer our clients land on which to design their dream home together. As custom home building experts of more than 50 years, we know our way around finding the right lots for all our clients!
What costs are factored in to the quoted price? Which are not?
Though this may seem obvious it's critical to address budgetary items upfront. Having these conversations as early as possible is important to suss out any unanticipated costs and thus eliminate surprise costs later on.
How will changes or concerns be addressed and who is your primary point of contact?
No project, construction, or otherwise was ever completed without a single hitch or question. Knowing who your main contact will be and the best way to communicate with them is important for peace of mind and clarity.
How often do you do projects like mine?
Many of our clients appreciate the expertise that comes with our years of experience. Projects are smoother when they are completed by people who know what to expect and can anticipate issues and have ready solutions and strategies to address whatever comes up.
Are you licensed/insured?
This is a must for any reputable home builder.
What warranties do you offer, if any?
Warranties can vary and on occasion, depend on the materials you are using in your project. With us, whatever materials you use we do a 30-day punch list and a year-end punch list to ensure all t's are crossed and i's are dotted when it comes to all the minor details in your home.
Will you use subcontractors? For what jobs? Tell me about your relationship with them?
Subcontractors are often necessary in order to ensure that we have the experts on your project! Reputable builders (like ourselves) have longevity in the community and deep-rooted relationships with their subcontractors which ultimately provides a smooth experience for you as the client. A home builder with a completely brand new batch of subcontractors is a potential concern, depending on the situation.
How many projects do you do at once?
Established builders like us, allot their resources to ensure that they don't overbook themselves! When fledgling companies brag about their rapid expansion, it may be wise to consider their timelines with a grain of salt. Consider that they are more likely than a more established, but still growing company to bite off more than they can chew.
How long will my custom home project take? How many of your projects finish on time?
Building projects can vary in length, especially depending on the size of the project. Most homes that we build end up finishing somewhere in the 6 to 7 month range. It's critical to note that any builder's estimate is only good if they have demonstrated by their reputation if they can deliver on it. And our years of experience speak to the fact that we continue to hit our timeline again and again.
Where can I reach past clients?
A reputable, established builder has a big fan club. Talking to other people who experienced this process from the client-side will be very valuable in helping you gather inside information for your big decision. Be sure to look up your builder's profile on Facebook or Google or even their own website to read up on reviews and client feedback.
Where can I view your work?
Galleries and project spotlights are great ways to make sure you've picked a contractor who routinely produces work that fits your style!
The Perfect Home Custom Home Builder is Perfect for You
One of the most important takeaways from your conversation with your prospective builders will be the way you felt during the conversation. You deserve patient, professional and friendly service! Did this potential custom builder answer your questions to your satisfaction? Do they understand your vision for your new home? Can they meet your needs?
Talk with the Custom Home Builders East Metro Relies on
If you're ready to take the next step in your dream of having a custom home, schedule a consultation with St. Croix Valley's premier custom home builders today. With 50+ years of home building experience, we can help you turn your dream home into a real home, on time and on budget.