Building a custom home in New Richmond, Wisconsin can be a dream come true for many people. Of course, achieving your dream involves a lot of steps, and you might not know where to begin. We've got a list of things to consider when building a house so that you know what to expect right from the start.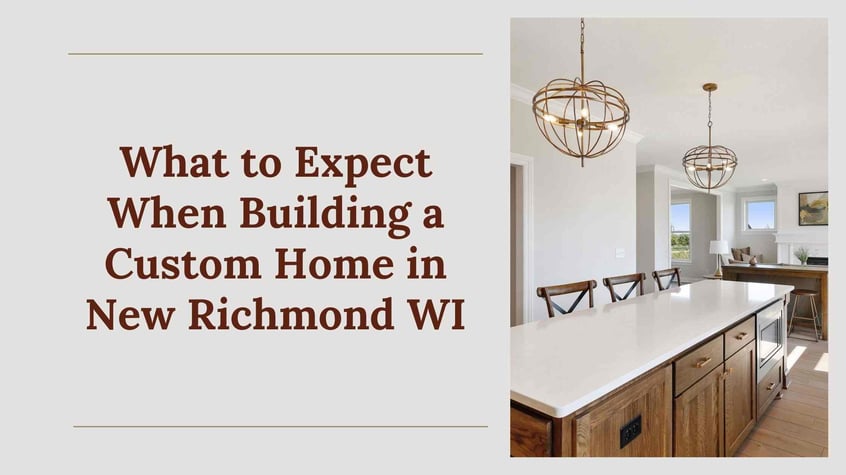 What Do I Need to Know Before Building a Custom Home?
The process of building a custom home is a journey for many homeowners, and the first few steps are the most important. Here are a few considerations when building a house that you should do at the very beginning of the process, to ensure a better result.
Choosing a Builder
One of the most important things you can do for your custom home is to choose the right builder in Wisconsin. Plan to interview at least a few so that you get a feel for which one is likely to do work that you will be happy to have. You'll want to ask about the following:
Licensing and insurance
Years of building experience
General cost estimates
Style preferences and special skills
Portfolio of completed projects
Need a checklist of questions for your builders? We make it easy to cover all the basics.
Identifying Land Options
Before you can start designing the home of your dreams, you need land. Builders can have unique perspectives about sourcing land, and it's wise to ask for preferences before you shop. They may offer you options in an existing development, which makes the process a lot less time-consuming. Some might prefer to help you find a lot but have you handle the land purchase separately. A few builders may expect you to find your own, or build on a lot you already have. At Derrick Custom Homes, we generally provide land to our clients, though we can work on a lot you already own. Looking for the best place to build a home? We've got plenty of ideas to share.
Separating Needs vs. Wants
Most homeowners have some ideas for what they want in a custom home, well in advance of finding a builder. It's important to prioritize the list into needs and wants and make sure that everyone who will be living in the home gets a space that works for them. Builders like to have more information, especially details about what you don't like or wish you had in your current home. If you have any preferences that conflict, such as one person wanting to build up and another wanting single-floor living, be sure to bring those up. Your builder may have a creative solution that meets everyone's needs.
Setting a Budget
If you're wondering what to know before building a home, creating a budget comes high on the list. It can feel like you're being pulled in multiple directions. On the one hand, it's difficult to set an accurate, realistic budget until you get a detailed estimate from the builder you choose. On the other hand, you need to know if a custom home is within your budget in the first place. Start with a broad range of $300 to $500 per square foot, and keep in mind that financing the home can be a great option.
Estimating a Timeline
Since a custom home can take more than a year from start to finish, you'll need to pick a time that is right for you. If you have any hard deadlines that require you to be able to move into your new home, you should plan to start the process with plenty of time to finish. Of course, your timeline isn't limited to your schedule alone. You'll need to factor in things like Wisconsin market trends and how far your builder books out. When you interview builders, be sure to ask about a realistic timeline for the project.
How Long Does a Custom Built Home Take?
Our typical custom-built home takes about 6 to 8 months from ground break. If you're making a list of things I wish I knew before building a house, timing is a big part. As you search for builders, ask about the building process and how much time you need to devote to the project. Although most of the work happens without your direct involvement, you'll still need to ensure that the project can finish at a time that works for you.
Is Building a Custom Home More Expensive?
Building a custom home can cost more at the outset, but that's not always true in the long term. If you look at the pros and cons of building a custom home, you may be pleasantly surprised to learn that custom homes often aren't more expensive than existing homes. Once you factor in the cost of customizing an existing home to your tastes, you might be spending about the same amount. Existing homes can even cost more, especially if you have significant repairs or upgrades to make so that the home meets your needs.
What Is the First Thing to Do When Building a New House?
On a list of things to do when building a house, starting with a reliable builder is your best bet. At Derrick Custom Homes, we've spent more than 50 years building dream properties for homeowners in Wisconsin and Minnesota. Contact us for more information or to get started.