Minneapolis and St Paul, MN are pretty great places to live. But don't take our word for it, just look at the numbers. They're growing all the time. There are lots of great places to set down your anchor and call home. There are terrific school districts, fantastic job opportunities, and lots and lots of great things to see and do to make building a house in the Twin Cities area worthwhile.
If that's not enough, living in the Minneapolis and St Paul area means you'll have access to a terrific system of rivers and lakes for those of you who thrive in, on, and around the water. And while the weather's not perfect, it's got a little something for everyone without hitting the worst extremes of heat and cold.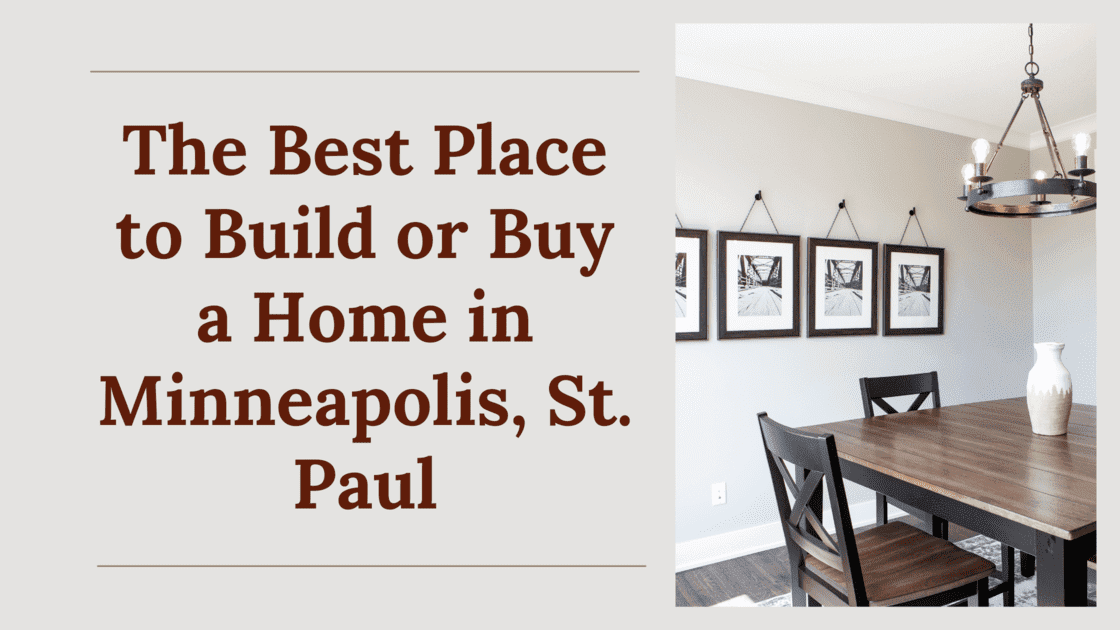 If you're not sold yet, well, there's a friendly local population and some of the best neighborhoods to call home in the Twin Cities. It might be hard to find a spot to build near the center of the metropolitan area, but chances are you can get close. There are lots of spots that benefit from access to nature and proximity to the city and services. To that end, here is a neighborhood comparison for the best 5 Minneapolis and St Paul MN neighborhoods to build a custom home.
Top 5 Best Places to Live in East Metro
Our rankings weigh the pros and cons based on aggregated surveys tracking livability, affordability, safety, and overall attractiveness for building a new home in Minnesota. Overall attractiveness means cleanliness, access to attractions and services, and low crime rates. That's because safety and crime rates are not always the same thing. An area can suffer from poor safety if intersections are managed badly, for example. So safety, as distinguished from crime, is an important factor if your family is moving to a new neighborhood.
1. Stillwater
Stillwater sits just outside of St. Paul on the St Croix River, drawing residents and tourists for its beauty and charm. It's touted as the birthplace of Minnesota and holds the reputation for being one of America's most picturesque small towns, one of the best places for a weekend getaway, and one of the most romantic cities. This historic town offers everything from the perfect picnic spots, idyllic boat rides, and fine dining, to gorgeous boutique hotels and miles of scenic bike pathways. Twin City residents find respite in Stillwater when the city life becomes overwhelming and they just want a slower, more quiet place to spend their days.
Stillwater is equally an excellent place to live as it is to visit. Located right on the St. Croix River with access to the St. Croix Marina, you'll enjoy views of the bluffs, paddle boats, and even gondolas. On Stillwater's historic Main Street and beyond, you'll enjoy dozens of antique shops, excellent dining, entertainment, festivals, distilleries, and wineries. The holidays are so beautiful in Stillwater, you'll feel like you're living in a classic film. Have a pension for fitness? Enjoy ski trails, biking trails, and Stillwater's five historic outdoor staircases. Atop the staircases are sweeping views of this incredible town.
Stillwater is an excellent place to call home for its highly-ranked schools, low crime, wonderful nightlife, job growth, and minimal commute times to the Twin Cities. Within close proximity to Downtown Stillwater is Baytown, with nearly identical characteristics, making it another excellent place to live. If you're looking for a slice of heaven to dream up your custom home, the neighborhood of Hills of Spring Creek offers just that. With half of the land placed into a conservation easement, you can be assured that the wildlife habitats, wetlands, and oak woodland are all protected, offering great opportunities for walking trails and appreciation for the natural environment.
2. Hudson
Hudson, Wisconsin, is a bustling small town with city amenities. It's become quite popular in the last few years and has experienced an influx of residents, which is sure to continue. Families, young professionals, and older adults are all enjoying their new lives in this special place for its quiet suburban feel while remaining close enough to the Twin Cities that make commutes and entertainment right within reach. Most residents own their homes in Hudson, which lends to its tight-knit sense of community.
Families and individuals are also moving to Hudson for its reputation of being clean, safe, and brimming with activities and entertainment. Dining, shopping, and more are right underfoot. Hudson's proximity to nearby cities expands your possibilities with restaurants, music venues, and sports.
The small city of Hudson ranks high in livability based on the highly rated education system, low crime rate, and other factors. Hudson is also known for its friendly residents, which further lends to its tight-knit community and small-town feel.
Looking for the perfect spot to call your own? The neighborhood of Meadow Ridge of Troy offers a community meant for superb style and custom homes that are built to your exact needs and wants. This quiet community offers panoramic views of the St. Croix Valley. Live in luxury among exquisite nature in Meadow Ridge.
3. North Hudson
The quaint town of North Hudson, Wisconsin, is a suburb of the Twin Cities and a go-to place for families to create a home. Friendly, safe, and beautiful, North Hudson offers a higher quality of life that's minutes from big city amenities. The ample natural environment that surrounds North Hudson is fantastic for those who truly love to live within nature. Biking trails, hiking and running trails, the location right on the St. Croix River, and the many parks in and around the area gifts North Hudson residents an incredible amount of opportunities to get outside and feel connected.
For families, the school system in North Hudson is ranked very high. Also, with an overwhelming majority of residents owning their homes, the community is well established and tight-knit. One such neighborhood in this community is The Ridges. Build your custom luxury home in this safe and beautiful community while having easy access to City Park, the St. Croix River and Marina, and Lake Malileau.
4. New Richmond
New Richmond is another area that families who enjoy the outdoors will absolutely love. Gorgeous scenery, fantastic golf courses, and plenty of outdoor recreation are just a few reasons New Richmond is on the shortlist for the best places to live in East Metro. New Richmond's proximity to the Willow River State Park means easy access to kayaking, camping, hiking, and biking. New Richmond is also close to the St. Croix River which is excellent for enjoying the waterfalls, fossil hunting, bird watching, and star gazing. New Richmond also has entertainment and activities you'd find in bigger cities, like stock car racing, the theater, shopping, dining, and locally owned unique shops. Its city-like offerings paired with a small-town feel creates a perfect balance.
The schools in New Richmond rank highly, their job growth is above average and has low crime rates. For these and many other reasons, New Richmond is a go-to for families, young professionals, and older adults alike. The real estate market in New Richmond is also more affordable than some of the other areas on this list, making it more accessible for first-time home buyers.
Two choice neighborhoods are ideal examples of living in New Richmond. Water's Edge is a comfortable and quiet area with available developed land for your luxury custom home. This neighborhood also has lake access for a weekend on the water or on its banks. Enjoy Willow River State Park or fine dining and everything in between. If you're interested in the affordability of a custom twin home, you'll find that the Naser Heights community is just right. A custom twin home is available at a lower price point but with the same fine details and amenities as a stand-alone home.
5. River Falls
Located only three minutes from the beautiful Kinnikinic River, the city of River Falls is a growing community with excellent schools, over two dozen parks, and plenty of hiking and biking trails. River Falls also has a lively downtown with historic architecture and healthy economic growth while remaining a safe place to live and visit. Mark your calendar for one of the River Falls festivals, parades, and art fairs.
River Falls is also an outdoor enthusiast's paradise. The Kinnikinic River Valley offers excellent trout fishing, mountain biking, and rock climbing. Nearby, enjoy camping, hiking, and bird watching in the Willow River State Park. You can also spend some time outside on one of the area's many top-notch golf courses.
Within only 30 miles of the Minneapolis and St. Paul area, you're in close proximity to the adventure and amenities the larger cities offer. Whether you're commuting for work, school, or just a weekend shopping trip, you're close enough to enjoy both the great outdoors and city life whenever you like. River Falls is also known as one of the greenest communities in the nation for its percentage of residents that use green energy. From individual homes to the community solar garden, River Falls has a reputation for its cleanliness and environmental awareness.
If River Falls sounds like the perfect place for you and your family to build a custom home, contact Derrick Custom Homes to inquire about the upcoming availability of lots that are ideal for a luxury single-level twin home. The neighborhood is association maintained which affords you a maintenance-free living. It's an added bonus that means less stress and more opportunity to enjoy the city around you.
Build Your Custom Home in One of the Best Neighborhoods in the Twin Cities
Of course, this list of the best Twin City neighborhoods is far from complete. There are many safe and cool places in Minnesota to build your next home and raise your family. We're here to help you find the best spot for your needs and your budget.
Here at Derrick Custom Homes, our team has more than 50 years of experience building fully customized homes for people living in the Twin Cities area, and we can help answer any of your questions. We can help you find the trendiest place to build your Minnesota dream home in the best area for your family, at a very competitive price, even in tough economic times.
Related: CUSTOM TWIN HOME BUILD - WHAT YOU NEED TO KNOW FOR A SMALLER CUSTOM BUILD