Minneapolis and St Paul, MN is a pretty great place to live. But don't take our word for it, look at the numbers. They're growing all the time. There are lots of great places to set down your anchor and call home. There are terrific school districts, fantastic job opportunities, and lots and lots of great things to see and do to make building a house in MN worthwhile. If that's not enough, there's a terrific system of rivers and lakes for those of you who thrive in, on, and around the water. And while the weather's not perfect, it's got a little something for everyone without hitting the worst extremes of heat and cold.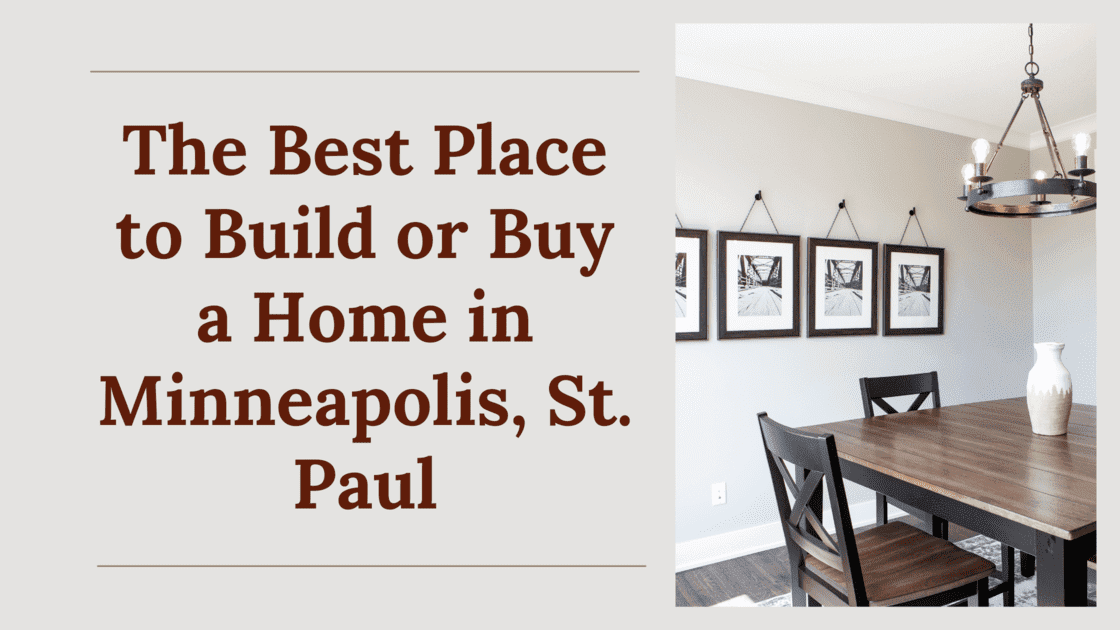 If you're not sold yet, well, Minneapolis and St Paul MN also have a friendly local population and some terrific neighborhoods to call home. It might be hard to find a spot to build near the center of the metropolitan area, but chances are you can get close. There are lots of spots that benefit from access to nature and proximity to the city and services. To that end, here are 7 great Minneapolis and St Paul MN neighborhoods to build a home in.
Top 7 Best Places to Live in Minnesota
Our rankings weigh the pros and cons based on aggregated surveys tracking livability, affordability, safety, and overall attractiveness for home builders in Minnesota. By overall attractiveness, we mean cleanliness, access to attractions and services, and low crime rates. That's because safety and crime rates are not always the same things. An area can suffer from poor safety if intersections are managed badly, for example. So safety, as distinguished from crime, is an important factor in judging the best neighborhoods in Minneapolis.
1. Falcon Heights
With a modest population of just over 5,500, and an exceptional overall livability score of 90/100, crime rates are 44% below the state average and the cost of living is just 11% higher than the state average. Real estate prices are 48% higher than the state average, which tracks with the high livability score, making it an excellent choice for new Twin Cities construction.
There are many beautiful modern homes for sale in this area and many attractive public parks. It's pet-friendly, and while you may need to drive to get to the nicest restaurants, the quality of life here is well worth it.
2. Waite Park
Waite Park's modest population of 5,394 is just below that of Falcon Heights with an amazing crime rate that is approximately 66% lower than the state average. It has a low cost of living at 7% lower than the state average and real estate prices are 11% lower than average.
Housing trends here are somewhat more modest than those of the number one spot, but they are beautiful nonetheless, and it's a good choice for building affordable new homes. This is a tranquil part of the Twin Cities area and most attractions are about a 30-minute drive away. But its high safety and 89/100 livability score speak to calm, safe streets and a great place to raise kids. This is where you'll find some of the safest neighborhoods in Minneapolis.
3. Hale
With an overall livability score equal to Waite Park, Hale stands out with its lower population numbers at around 3,310 current registered residents. This is a very tranquil part of the Twin Cities community with crime rates at an impressive 61% lower than the state average. The cost of living is reasonable at just 6% above average and real estate prices 40% higher than average.
Hale is even more remote from the more developed parts of the area. It has good shopping access and very well-reviewed K through 12 schooling. It earns very high marks for family friendliness. There are plenty of public parks and public transportation is robust. One of the main things locals love most about it is the area is small enough that most residents can walk to the grocery stores, the sidewalks are in good condition, and the people are polite and friendly.
4. Mahtomedi
Named after the Dakota's term, "of the lake," Mahtomedi Minnesota is definitely one of the top places to live in the Minneapolis, St. Paul suburbs. Known to be a safe place to raise a family, you and your family will find the community and friends you are looking for while still being close to St. Paul. Mahtomedi has a budding population of 8,164, and with a majority of its residents homeowners this is a great place to truly settle down. With a slew of public beaches on White Bear Lake, Mahtomedi is a beautiful spot to raise a family and live the good life, while still being close to the big city.
5. Gem Lake
Gem Lake is exactly as its name indicates, a real gem. But all puns aside, this area of town is the perfect place for young families to settle down. Away from the noise of the city, but still in the twin cities vicinity, Gem Lake has its own ecosystem with family parks and fun nightlife. Located in Ramsey County Northeast of St. Paul, Gem Lake has a crime rate 60% lower than the entire state of Minnesota's average. For anyone looking to leave behind the rush of the city, but still remain close by, Gem Lake is definitely a great option.
6. Lake Elmo
With some of the highest-rated public schools in Minnesota, Lake Elmo offers a green-scaped suburb, great for families to settle down in. Known to be a friendly and welcoming community, Lake Elmo offers a small downtown area for its low-key nightlife, yet remains close enough to the city that you could easily hop on 94 or 694 to head into town. With an incredibly low unemployment rate of 3.9%, jobs still continue to increase over the years. Home values in this area are also increasing and Lake Elmo is known as a great place to invest in a home of your own to live in while your assets continue to grow.
7. North Hudson, WI
Okay, so not exactly in Minnesota, North Hudson is still considered a suburb of the twin cities, albeit a bit further out. Regardless, this area is such a great spot to live, we couldn't leave it out. Just across from Lake Saint Croix and only 35 to 40 minutes away from the city, North Hudson is not a spot to overlook. On the water in the great lake area of the country, North Hudson has a small-town population of 3,796. It is a safe place to live with friendly neighborhoods and an incredible list of beautiful parks to visit. And just because it's further out, there is no shortage of enjoyment of the arts or historic sites to see. North Hudson is definitely on the top of the list for beautiful locations to live near the twin cities.
Of course, this list of the best Minneapolis neighborhoods is far from complete. There are many great places to build your next home, and we're here to help you find the best spot for your needs and your budget.
Here at Derrick Custom Homes, our team has more than 50 years of experience building fully customized homes for people living in the Twin Cities area, and we can help answer any of your questions. We can help you find the trendiest place to build your Minnesota dream home in the best area for your family, at a very competitive price, even in tough economic times.
Related: CUSTOM TWIN HOME BUILD - WHAT YOU NEED TO KNOW FOR A SMALLER CUSTOM BUILD