When you're looking to move to Hudson, Wisconsin, or even just a new neighborhood in town, there comes a big question that every potential homeowner asks: Should I buy a home or build a custom home?
There are plenty of reasons why building a custom home is the better choice out of the two. Whether it comes down to meeting your specific home design goals or having more control over the budget, building a custom home offers several benefits.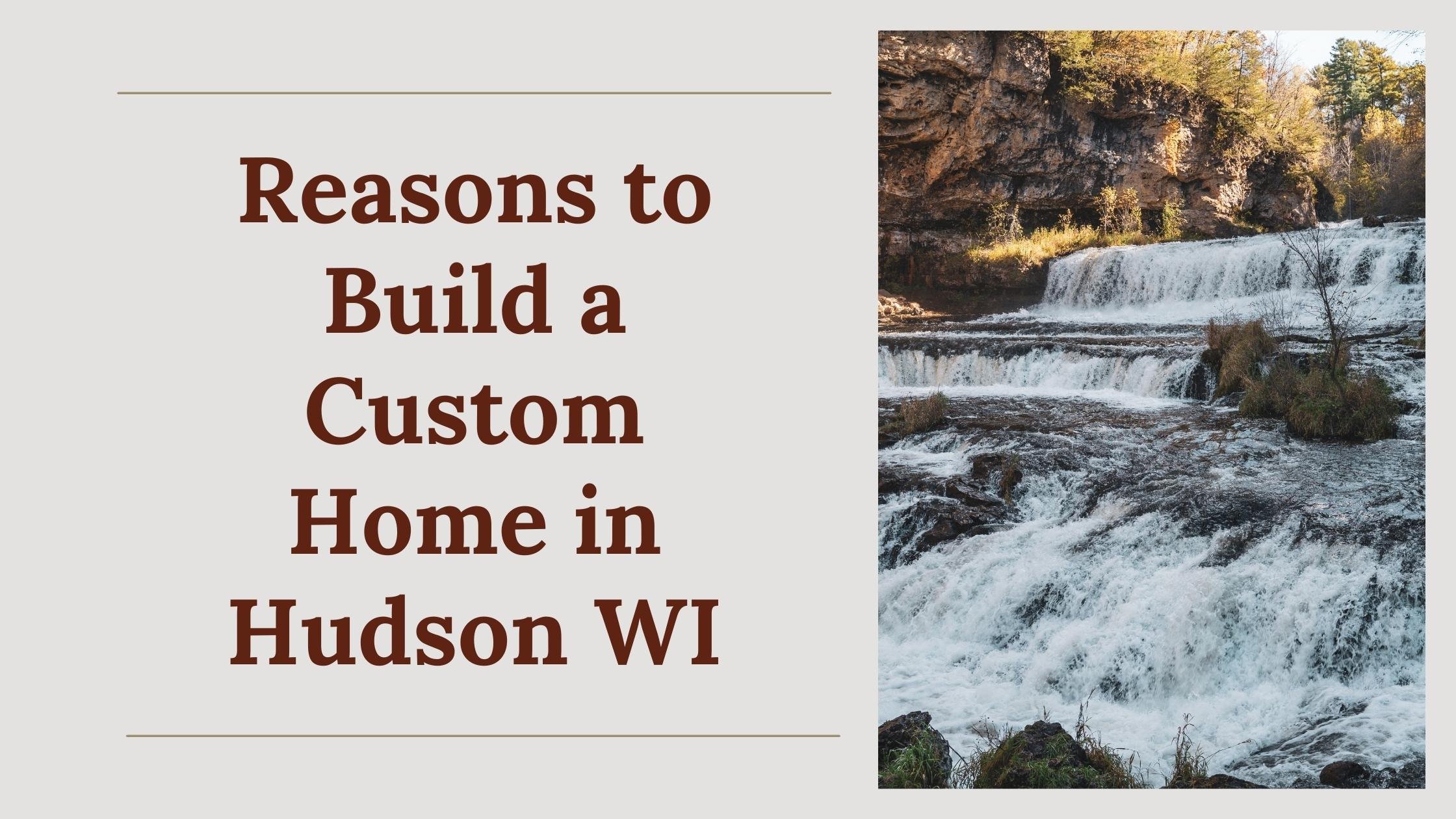 Building a Custom Home in Hudson, Wisconsin
As part of the Twin Cities metro area, Hudson, Wisconsin is brimming with the perks of living near big cities while offering that small-town feel. Hudson is a suburban area where most residents own their homes, which means that people are invested in the town, its people, and everything else it has to offer. It's for these and so many other reasons that Hudson is growing in population every year. Since the 2010 census, the population has grown by an impressive 15%. Families and young professionals alike are moving to Hudson.
Hudson's restaurants, shopping, outdoor living, and highly ranked public schools make this one of the best places to live in Wisconsin. It's beautiful, clean, and friendly. The nearby Twin Cities offer residents even more sports, theater, museums, and music venues.
Why is Building a Custom Home the Better Choice?
Now that you've learned a bit about what makes living in Hudson, Wisconsin so special, let's discuss why you should build a custom home here. What are the benefits of building a custom home?
1. Control Over the Layout
The benefit of starting from scratch is having complete control over the layout of your Wisconsin home. Your custom home builder will take into consideration everything you hope to get out of the home building process and work with you to create a design that's a perfect fit for you and your family. The location and layout of each room in the house will be outfitted to suit your family's specific needs. Your personal preferences as to where the bedrooms are in relation to one another, whether the half bath is located off of the kitchen or the living area, which rooms get afternoon sun, are all priorities.
2. Cost Predictability
During a renovation, certain issues can arise that cause delays and budget increases. Insect damage to support beams, old wiring, and other unexpected and expensive obstacles are not always known before demolition. Building a new home, however, with an allowance set aside, you can feel more confident in the budget set between you and your builder. The process of building a custom home follows more of a straight path from beginning to end, rather than a winding path full of uncertainties and surprises.
3. Energy Efficient and Durable
New homes will save you a lot on bills because of their energy efficiency. Tighter seals on windows and doors, also known as the envelope of a home, keep warm or cold air in, reducing the amount of energy spent heating and cooling a home. A newly built custom home means you will have control over the appliances and finishes. You will have the freedom to choose faucets that will save water usage and appliances that are designed to be energy efficient.
In addition to saving on energy, you will save on replacing old systems or appliances. Often, old appliances, electrical systems, and your HVAC equipment will need to be replaced sooner than later. Not to mention, older appliances and systems are more likely to need repairs and maintenance more frequently, driving the cost of a secondhand home higher than you expected.
4. Skip the Remodel Headache
Just as the layout is completely custom and to your liking, every finish and fixture is chosen by you. The only compromise you'll have to make will likely be based on cost. Every detail of your custom home is up to you–the flooring, paint colors, appliances, cabinetry, plumbing fixtures, absolutely everything.
When you build a custom home you can choose every detail from the start. There won't be a need to undergo a remodel for many years. When you purchase a home that someone else has designed, you will have to undo possible mistakes from past renovations, change out amenities and finishes that are outdated, and possibly update electrical and plumbing systems. As mentioned above, the costs can get out of your control and more problems can arise than are solved.
5. No Competition
As you look around to purchase a new home, the process can be exhausting and an emotional roller coaster. After looking at house after house, you finally find something that fits your wants, needs, and budget. You get approved for the amount and make an offer just to lose out to a higher offer by another family. The process starts all over again.
Cut out the competition and have a home built exactly the way you'd like it without the chance of someone else swooping in and costing you more time and energy. The home buying process is fine for many, but if you'd like to skip the drama of competing for your dream home, custom home building is the best option.
Build Your Custom Home in Hudson, Wisconsin
With so many reasons why building a custom home is the best choice for you and your family, you'll want to get started on finding a trusted custom home builder with plenty of experience in the field. Derrick Custom Homes is dedicated to making the home building process a smooth one that will end with moving you into the home of your dreams, not someone else's. A custom home built just for you and your family is what Derrick Custom Homes has been doing for more than fifty years. Contact Derrick Custom Homes for a consultation and let's discuss what you can expect out of the custom home building process.