When you've outgrown your current space and are ready for a new home, your options for your new home include both new construction and an existing home. Deciding which is right for you is a completely personal process, but the pros and cons of buying vs. building a home might surprise you. If you are interested in existing new construction, we have some stunning newly built homes in our portfolio available for you to view today. If you're considering a custom-built home for the first time, or haven't built a home in quite some time, it is vital to understand the process for financing the custom home you've been dreaming of. New construction loans are not mortgages and have different requirements, structures, and rates. Arming yourself with knowledge of this unique process will ensure that you don't run up against unwelcome roadblocks and surprises while en route to your new home.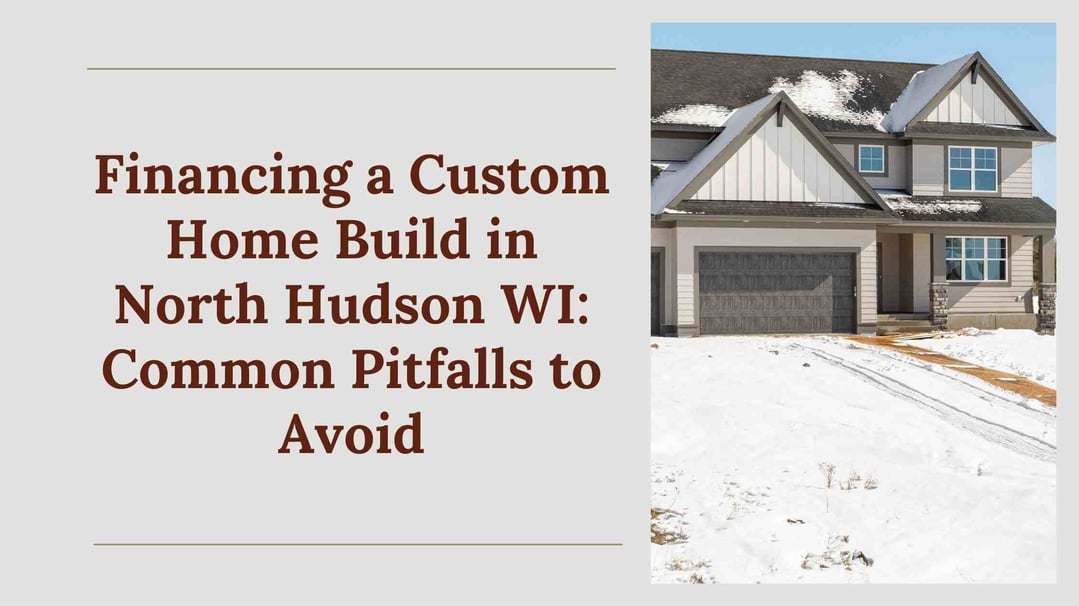 At Derrick Custom Homes, we partner with a team of lenders to ensure that our clients are well-positioned to embark on this process with us, based on their individual situations and needs. We know that every vision and every financial portfolio is different and we want our clients to experience expert help that is tailored to their needs every step of the way. Our time-tested process extends to every part of the custom build process, from identifying your perfect neighborhood to our 30-day customer-care check-up. Contact us today to begin the process to make your dream home a reality in North Hudson, WI.
How Do You Finance a Custom Home Build?
Financing new construction is different than a traditional mortgage. Either way, during the construction phase, payments are calculated and made based on the interest of the new construction loan and do not pay off the balance of the home. Speaking to lenders about your particular situation and shopping for the best rates is advised. There are two common categories of new construction loans:
Construction Only Loans or Two Closing Loans- In this system, the loan is made for the construction of the home only, and then the homeowner applies for a traditional mortgage upon completion of the home. These rates tend to be lower than their one-closing counterpart, but this process requires a second closing to secure your mortgage.
Construction-to-Permanent Loans or One Closing Loans- Though these rates tend to be a little higher than construction-only loans, there is no second closing or need to enter a second financing process. Our loan officer partners can help you compare rates and select the best fit for you.
Is it Hard to Get a Loan to Build a House?
New construction loans have stricter requirements for buyers. The following are common requirements our lenders often have for prospective clients:
Down Payment Requirements: Down payment requirements for new construction are higher than those for most traditional mortgages. Though a 20% down payment is very common, some lenders require 25% or more for construction loan down payments.
Credit Score: The minimum credit score for securing financing for new construction is also higher than it is for a traditional mortgage. The common credit score floor for approval for a new build is 620.
What Documents Do I Need to Buy a House?
Organizing your financial information and the documentation your lender will likely require will ensure that you are fitted with the best possible financing option for you and expedite your lending process. The following documents are commonly required when applying for a new construction loan or mortgage:
Pay stubs/Proof of employment

Tax returns

Bank statements

Business documents if you own your own business (tax returns and financial statements)

Debt information (to illustrate your debt to income ratio)

Confirmation of property sale and ownership (past and present)

Statements about stocks, bonds, etc.

Proof of any additional income sources

Earnest money documentation (Showing the funds in escrow).
When Do You Start Paying the Mortgage on a New Build?
Though you will be making payments during construction, these are no mortgage payments. Payments during construction cover the interest on the construction loan only and are paid directly to the builder for the work as it is completed. Mortgage payments do not begin until the construction is complete. At this point, construction loans transition into traditional mortgages.
Build the Best Custom Home in the Twin Cities
If you're ready to begin the process that ends with your dream home in Hudson Wisconsin, we would love to talk to you. Derrick Custom Homes will help you get it done, beautifully and on time and budget. We know what a big investment of time, money, and energy this process can be. You deserve an experienced, dedicated team every step of the way. Reach out today to schedule a consultation with the home building experts at Derrick Custom Homes today to discuss your new home dreams.
Related: MISTAKES TO AVOID WHEN BUILDING A CUSTOM HOME IN WESTERN WISCONSIN