Welcome to The Hills of Spring Creek! This storied and scenic property in the Stillwater school district is destined to be an absolute stunner! This Baytown neighborhood is in close proximity to downtown Stillwater and the St. Croix River. Rolling hills and greenspace dominate this thoughtful community plan, slated for Spring 2022 availability. We broke ground on the model for this development and we cannot wait to show off this location and begin to move our clients into this brand-new gem of a neighborhood.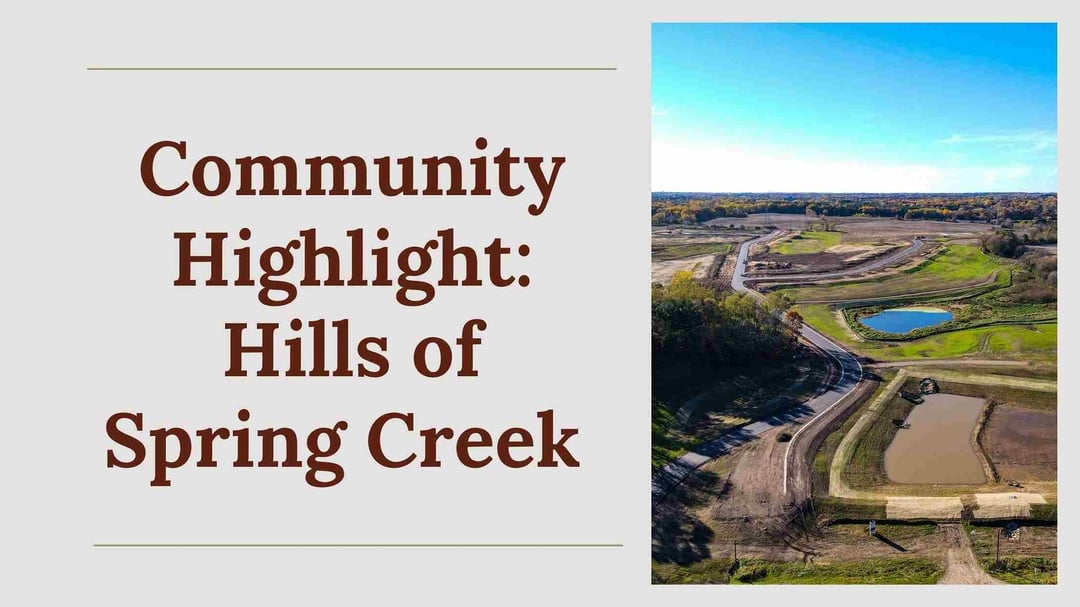 Here at Derrick Custom Homes, we understand that a custom home can be the culmination of a lifelong dream. We also know that building a custom home may be an option sooner than you think. We've spent more than 50 years becoming experts in the pros and cons of building a custom home. Building a custom home may be more cost-efficient than you think!
Green Space in Baytown Township
This beautiful former farmland still hosts rolling hills, wetlands, and plenty of green space. The final plan is segmented into three distinct phases and areas but preserves at least 50% green and community space throughout the development. The thoughtful layout includes over two miles of walking paths, much of which traverses wetlands and overlooks the scenic forest and gentle cityscape on the horizon. This colorful fall view is a current team favorite and we know you'll love to have it outside your bedroom window.
Easy Access to Fun in the Stillwater, MN Area
We love to scout neighborhoods and always have our eye on areas that will maximize attractive nearby options for our clients. We understand that different buyers want different nearby amenities, and we've taken the time to learn a lot about the nearby neighborhoods so that we can help match our clients with a truly custom community experience in the custom home in the Twin Cities.
This prime Baytown Township location boasts the following family-friendly features:
Residence in the Stillwater school district
1.2 mile commute to St. Croix Valley Academy
2 miles of walking trails with rolling green space and wetlands
Winding design with plenty of cul-du-sac options for privacy and traffic reduction
Close proximity to downtown Stillwater for dining, shopping, and fun
Nearby recreation opportunities for fishing and boating on the St. Croix River
Hills of Spring Creek Neighborhood History
We plan all of our new neighborhoods with meticulous detail and care, but we're especially proud of this one. The naming and logo design of The Hills of Spring Creek is meant to honor the history of the land. Though it recently functioned as farmland, the rolling hills of this development were once the domain of the famous riverboat captain, Joseph "Big Joe" Perro, for whom Perro Creek is named. His 1854 purchase encompassed much of the surrounding area, as well as the creek, previously called Spring Creek. Our budding community sits west of the creek and overlooks the surrounding area. In naming The Hills of Spring Creek, we sought to pay respect to the past, and the name of the water near the land, and remember the more recent heritage of the land by including farmland in the HSC logo.
Lots are Available For Purchase
We know you'll be pleased you decided to call The Hills of Spring Creek home! Now is the time to secure a lot and ensure you don't miss out on this gorgeous and naturally balanced neighborhood. Phase one of the HIlls of Spring Creek includes just 30 homes. Future phases include careful planning for a total of 100 homes in three distinct sections or phases connected by walking paths and open green spaces. Lots in the first phase are available now for reservation and are expected to be complete beginning in the spring of 2022, with further expansion to be completed within the next few years. Everything is considered in this meticulously planned development, starting with the utilities. There is nothing for a buyer to coordinate or plan, as this neighborhood plan includes access to city water and community septic.
The realtor for the project, Tim White, is a huge asset to our clients during the entire purchase process. Reach out to him today and find out why we selected him to work with our team.
We Want to Build Your Dream Home
If you're ready to take the next step in your dream of having a custom home, schedule a consultation with East Metro's favorite custom home builders today. With 50+ years of experience, we are confident we can build the custom home you deserve and desire. We would love to build your new home here in the Hills of Spring Creek, or somewhere else in the East Metro area.