It's the keystone of the American Dream: owning your own home. And at the very top of that is having your own custom home that was designed just for you and your family. But are custom homes worth it in the long run? Are they really everything they're cracked up to be? Are there pros and cons you should be aware of? Families need to know the answers to these questions before going forward. Not every answer is right for every family, and the more educated you become about your options, the more likely you are to make the wisest investment in the long run.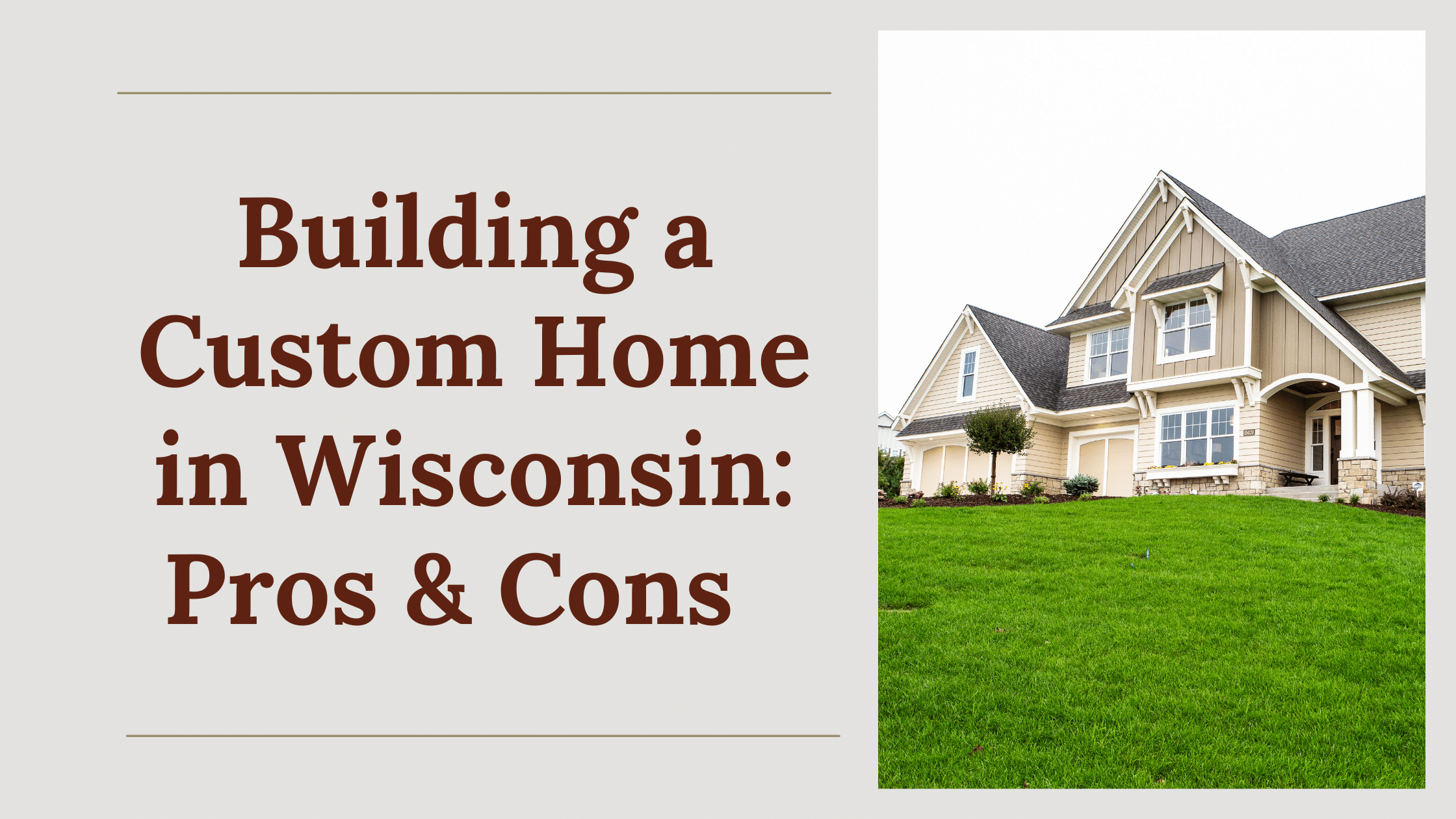 How Much Does it Cost to Build a Custom Home in Wisconsin?
Here in the upper Midwest, the average price per square foot is determined by a variety of factors including material costs, overall home size, and more. In addition, market forces can cause building materials to fluctuate, as they have this year: Lumber prices rose drastically during the first phase of the pandemic, then started falling just as precipitously a few months later. Prices of the other materials you choose can fluctuate, and obviously, some materials cost more than others. Often, but not always, you will pay upfront for higher quality, more durable materials; but over time, maintenance and repair costs will be lower. The size, features, and amenities you want in your custom home design will also impact the price. So, if you have your heart set on building a custom home, it's important to plan wisely with an expert new home builder so that you can invest in design choices that will make your life better, and impress potential future home buyers if you ever want to sell your home years down the road. With five decades of experience building custom homes in Wisconsin, Derrick Custom Homes can guide you in the right direction as you make each of these important decisions.
Is It More Expensive to Build a Custom Home?
This is also not an easy question to answer, and actually, the answer might surprise you. In the current housing market, it may actually be less expensive to build a custom home than to buy a pre-existing home. Why? Again, there are many factors. And the answer can be different depending on the circumstances. We are only discussing averages here, and only for recent market conditions.
When building a custom home, land costs, the design and engineering planning, permitting, framing, roofing, walls, windows, doors and all of the plumbing, heating, electrical, and interior finishes for each room can all add up to influence the overall cost of a custom home.
Obviously, we are a bit biased but buying a pre-existing home comes with its own slew of different costs and potential issues. For buying a home, price-points are determined by the general market; in this current climate, the circumstances of the pandemic; owners needing a return; and banks driving up prices due to housing-shortage-related buyer competition. Not to mention the possibility of remodeling and repair costs that come up over time because it's an older home.
How Long Does it Take to Build a Custom Home?
Of course, it definitely takes longer to build a custom home than to buy a pre-existing home you can move into as soon as the previous family is out and the house is cleaned. Depending on the size, design complexity, availability of the desired materials, weather, change orders, features, and location, you'll be surprised to learn that a custom-built home in Wisconsin can be completed on average in somewhere around six months. One of the major benefits of building with Derrick Custom Homes is that we already have land available in specific developments around Minneapolis and western Wisconsin, so you can easily pick from a selection of locations without having to do a lot of scouting and bargaining with previous landowners. This amounts to a significant amount of time savings over traditional custom-home building schedules.
Building a Custom Home: Pros
The number one perk of having your home designed and built from the ground up, just for you, is that you get the home you want. The features, the design, and the layout can be

customized to your family's needs

, and you can build flexibility into it for the future.

You also won't need to compete with other buyers for a home that might still require remodeling in order to meet your needs (one of the reasons buying used can be more expensive).

Everything in your home will be new this year. It will be more energy-efficient, more durable, and safer for longer. It hasn't had time to degrade and requires maintenance and repairs. Choosing the right building materials will extend that time even more.




Building a Custom Home: Cons
It takes more time to build a new home than to simply buy one and move in.

Although the

average

cost today of building a new home is somewhat less than it would be to move into a pre-existing home, there are a host of factors that could make your custom home more expensive than just buying another house.

The process of building a custom home can be stressful. Fortunately, with an expert team of designers and builders who have five decades of home building experience on your team, you won't have to go it alone, and we can help you navigate the process so it's more fun than stressful.

Talk with the Custom Home Builders Wisconsin Relies on
If you're ready to take the next step in your dream of having a custom home, schedule a consultation with Wisconsin's premier custom home builders today. You can also explore our new community, the Hills of Spring Creek. With 50+ years of Wisconsin home building experience, we can help you turn your dream home into a real home, on time and on budget.
Related: How to Purchase a New Home in 2022