Designing and building a custom home is an exciting experience, to say the least. It's also a rather large investment that you don't want to have to remodel for a few years. Working with a knowledgeable custom home builder is an excellent place to start but you should also learn a few things about the custom home building process.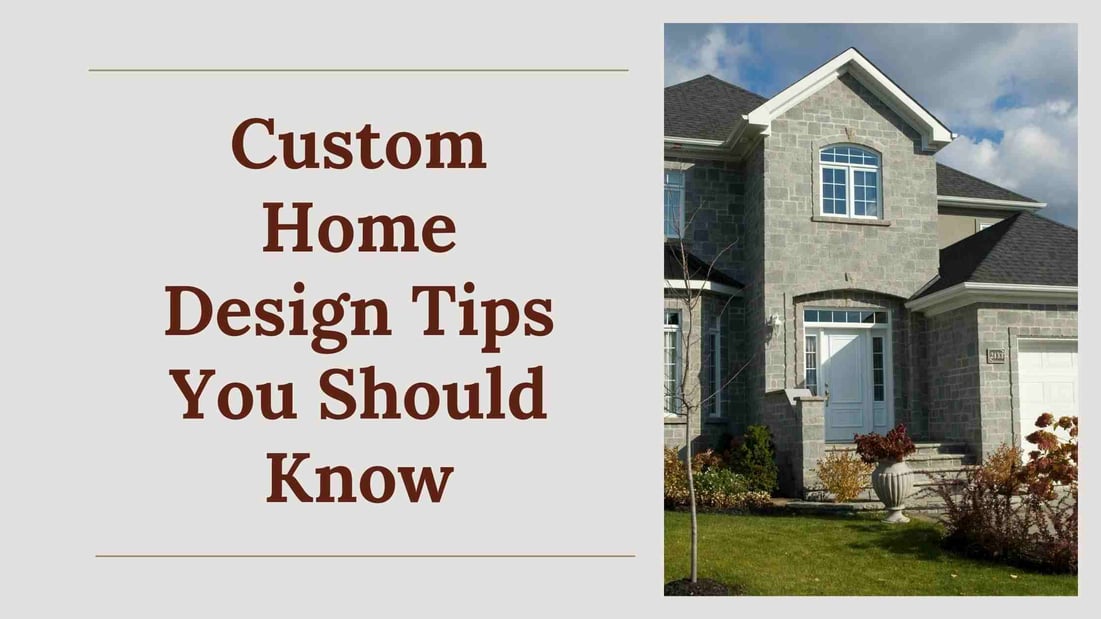 Buying Land
It may be one of the least enjoyable parts of planning your custom home build, but locating and buying land is first on the list. Depending on where you'd like to live and what your project requires, your custom home builder may be able to help you find and acquire land. If your custom home builder designs and builds homes in development communities, you'll be in a great position to purchase a lot and secure a builder at the same time.
Buying land in a development community also comes with many perks. First, the land will have been developed. You won't have to schedule soil tests or coordinate the plumbing or electrical to be connected to the city lines. There are also ordinances and building codes that you won't have to navigate because that's already been taken care of as well.
Choosing the Right Builder for Your Project
Several factors go into choosing the right builder for you and your project. First, does the builder work in styles that align with your design goals? Look through their online portfolio. Most will have examples of their work on their website. Will you need help with the design or will you come to the table with drawings from an architect? Also within the first stage of finding your home builder, you will need to be sure the builder can work within your budget and timeline.
After those first boxes are checked, schedule initial consultations with several home builders. During this first meeting, be sure to have a list of questions ready for each. Treat the consultations like you would an interview. You'll want to make sure they will be available to communicate with you frequently and you will also want to know what methods of communication they use. Don't be afraid to ask very detailed questions. The more information you have, the better the fit your builder will be for your custom home project.
Common Mistakes to Avoid
In any custom home building process, there will likely be a bump or two to problem-solve around. By making yourself aware of the mistakes that can happen along the way, you might be able to prevent the ones that cause the biggest problems in the long run. Many mistakes and missteps come from choosing the wrong builder, for example. Miscommunication, poor quality work, and cutting corners are typical of hiring the wrong builder for the job. A thorough vetting process can help curb these and many other mistakes.
Another way to avoid some of the bigger mistakes that can occur during the home building process is to slow down during the design process. Make sure that every design goal is being met and within your budget. Changing the design after the construction has already begun can be very costly. It's best to invest more time in the design process rather than settle for what the designer is producing just for the sake of moving the project forward.
Timeless Design vs Trends
It's tempting to indulge in the latest trends when it comes to designing your home. The best way to incorporate trends is to apply timeless design to the major structural parts of your home and use trends in the accents. This could mean using trends for smaller elements that are inexpensive or easy to change out, like paint colors, plumbing fixtures, and lighting. Even a larger piece, like the bathroom vanity, is a great way to lean into a trend that isn't too difficult to change when the trend passes in a couple of years.
Some design trends are worth a larger investment if it's likely to suit your personal needs well into the future. A home office is a great example of this and other designated rooms may be as well. If you become a remote worker and that's not likely to change, this trend makes sense to include in your design. The same idea applies to the rising trend of including an outdoor living space in your custom design. The popularity arose with more people entertaining at home and enjoying these spaces will continue.
You're Ready to Start Your Custom Home Journey
Building a custom home can be a stress-free process with the right team. With these tips in mind and a knowledgeable and caring home builder by your side, your dream custom home is right around the corner. Let Derrick Custom Homes guide you through the entire process. If building a custom home sounds like a bigger project than you're ready for at this time, Derrick Custom Homes can also help you through the process of finding the right move-in ready newly built home. Our fifty years of experience exceeding expectations and building trust means you will have the best custom home builder for your new home experience, no matter the route you decide to take. Contact Derrick Custom Homes for a consultation.