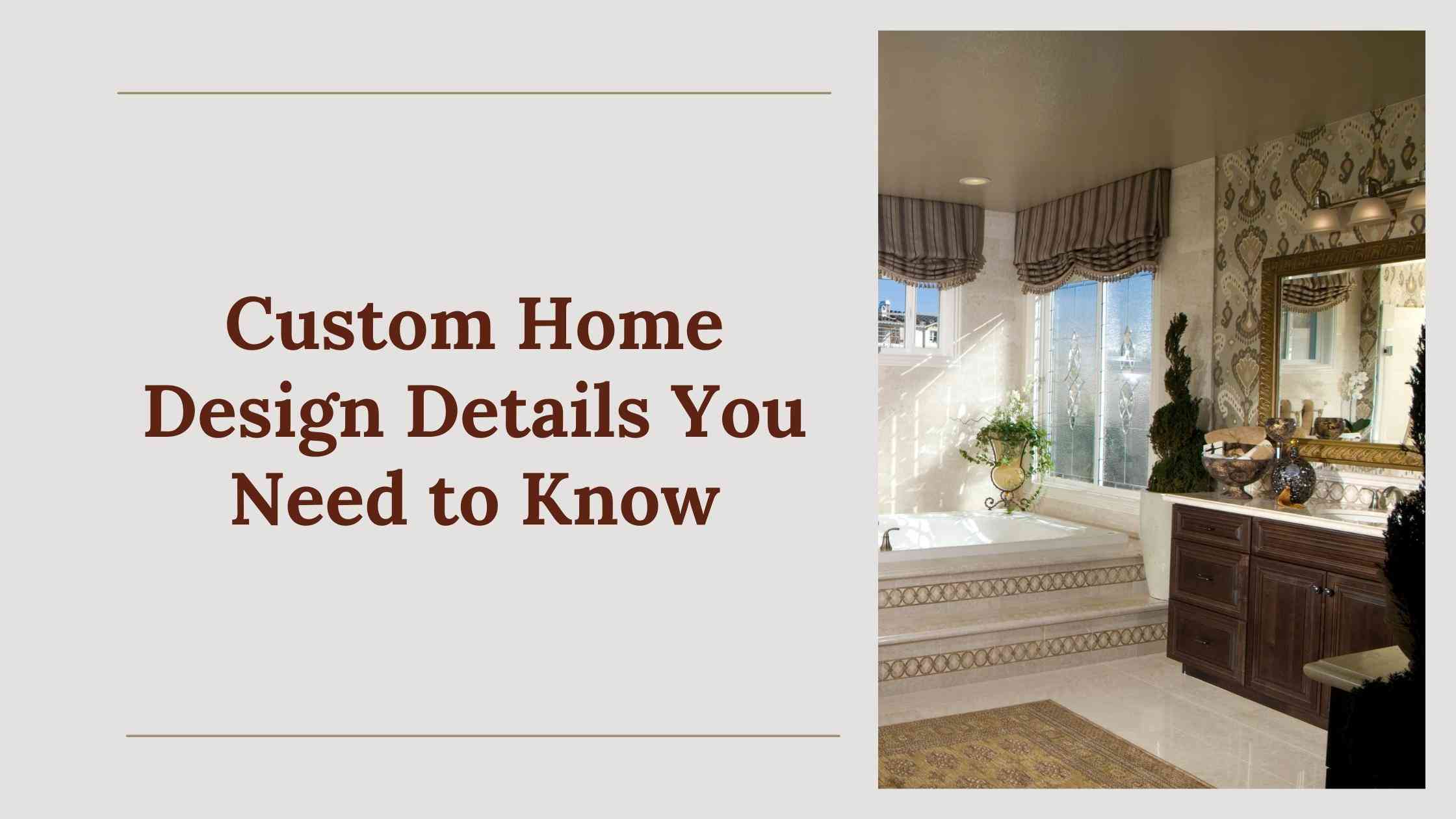 Have you ever come across something and said to yourself, "Why didn't anyone tell me about this?"
Building a custom home is one of those things that could spark this question over and over again. That is if you don't do your homework first. What do you need to know about designing a custom home? From layout planning to choosing your hardware, we have the top custom home design details you should know before you get started.
Don't Settle On The Layout
It can be difficult to imagine what options exist outside of what your designer or architect has shown you. Think about how you and your family use your current home. What spaces do you wish were bigger? What spaces do you not use as much as you thought you would? Maybe there's a space that doesn't exist at all but would be very useful. Placement, size, and types of rooms in your home may not fit with the norm, so why should your layout be typical?
Outlets and Lighting
Outlets and lighting are two of the most underrated but important items you can plan for while designing a home and you will likely need more than you think. If you've ever had to plan a room around the location of the outlets, then you probably understand. With an open floor plan, it's worth considering covered outlets in the floor that are in the center of the room as well as multiple on every wall.
Poorly planned lighting can also cause a lot of frustration. You may even have to have additional lighting installed down the line if you and your designer don't properly assess lighting during the design phase. This, and many other reasons, is why not rushing the design phase is crucial to getting the best outcome.
Reduce Energy Use At The Source
How much your energy bill will cost is another detail that's commonly forgotten during the design phase. There are plenty of ways to ensure you're not going to end up with an inflated bill every month. When thinking about ways to reduce the amount of energy you'll use, start with some go-to items that can make the biggest impact.
The type of windows you choose can affect UV rays and air transference. Low-E windows are coated to block UV rays and keep both cooling and heating in, reducing the amount of energy your HVAC system uses to keep your home temperature comfortable.
Another energy-saving addition to your custom home is in-floor radiant heating. Many homeowners will design radiant heating into the bathroom, but you can also use radiant flooring anywhere that the flooring material is a good conductor of heat. Radiant floors use less energy because the heat is directly transmitted from the heat source to the air in the room and also to your feet, rather than being pushed through ducts.
Use energy-efficient appliances in the kitchen and laundry room but don't forget about the water heater. Solar water heaters, an electric heat pump water heater, or an on-demand water heater will be more energy-efficient than the common gas heater.
Thinking Ahead: Features That Add Value
Designing for right now is exciting but if you don't plan on this being your forever home, consider what adds value and what future buyers would find irresistible. Some features that will retain their value are a large kitchen island, a spacious primary suite, a home office, a deck or porch, and lots of storage.
Other features that might require lots of maintenance, are very trendy, or are very niche might make a future potential buyer see them as more of a burden than a benefit. Talk to your designer about what buyers typically look for in a new home. Chances are these are features that have been popular for years.
Trending Versus Timeless
It can be very tempting to indulge in the hottest trends when you're designing your custom home. Choosing features that are difficult to change out, however, will cost you when you're ready for something new. If a remodel is something you'd rather do later than sooner, go for timeless on the more substantial features and add touches of trend on finishes that are easier to change out.
Paint, kitchen hardware, pendant lighting, and even plumbing fixtures can be updated without too much fuss. Of course, there are some trends that just so happen to also be timeless. The return of the home office, vintage finds, and at-home entertaining are just a few examples of what's old becoming new once again.
Lean On A Trusted Design Team
There are details all throughout the custom home building process that a skilled and experienced design team will be able to work through with you. Rather than just designing your custom home based on what's already been done, a great designer will listen to your goals and ask questions that get to the bottom of what your custom home design should be.
Derrick Custom Homes has been building custom homes for generations. Getting to know the client and delivering a custom-built home that exceeds expectations is simply what we do. Contact Derrick Custom Homes to talk about your custom home, down to the last detail.