If you have always imagined building your own dream house, but have worried about the horror stories you've heard from friends about working with various contractors, there is a remedy for the anxiety: education. Here in St. Croix Valley, you have some great options for both customizing new construction homes, but also for working with a reputable, experienced design-build firm on a custom dream home that fits you and your family beautifully. If this is your year to get started on a home that's truly meant for you, here are our 7 tips for building a house with a builder so that you get the custom home of your dreams.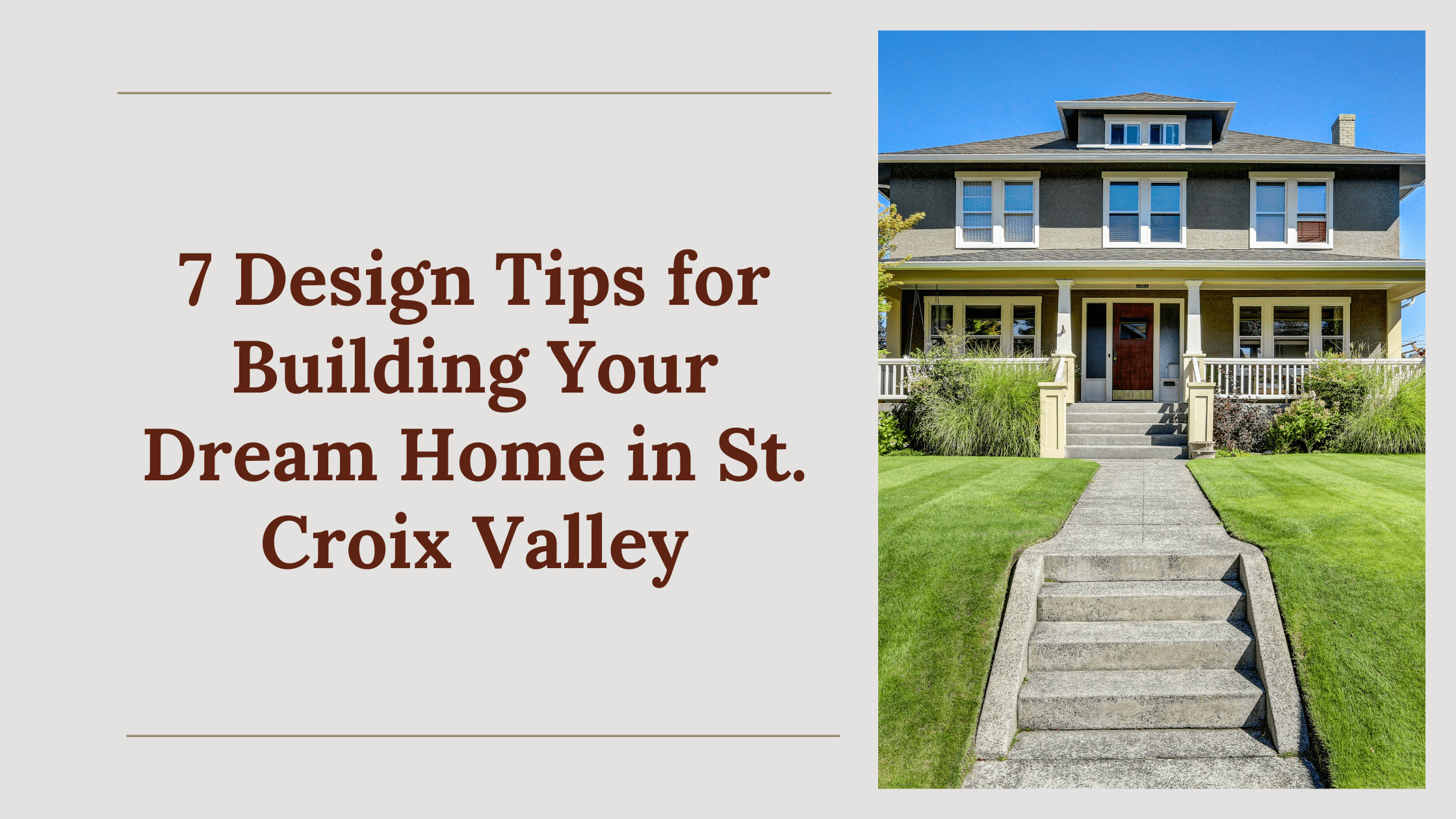 1. Choose the Right St. Croix Valley Custom Home Builder
Make sure the custom home builder you choose for your project checks off all the necessary boxes to give you the peace of mind that your dream home will come together perfectly, on time, within budget, and with a minimum of headaches. This requires doing some homework, but it's well worth it. It's important to peruse their portfolio, check online reviews, and talk with previous clients about any strengths or weaknesses. Make sure they're licensed and insured, and that they are easy to communicate with.
2. Don't Rush the Design Phase of Your Custom Dream Home
Once you've chosen a reputable custom home builder, settle in for the design and planning phase. Rushing the design phase is one of the biggest, most costly mistakes you can make. The right home builder will insist on getting the planning right. By taking the time to discuss all of the details before excavators start digging, you'll be able to get a strong, mutual vision of what your home will look like, and all of the steps to get there. You will be able to reduce expensive and time-consuming change orders, stick to your budget, get a high-quality construction outcome, and eventually move into the home of your dreams.
3. Pay Close Attention to the Details
During the planning phase, don't overlook these important, but less visible details:
Under-the-hood items like insulation, HVAC, water heater, solar power, security, electricity

Getting enough power outlets in the right places

Lighting design: locations, purposes, and placement of all fixtures so they serve the purposes of ambient lighting, task lighting, and accent lighting.

Natural lighting design with energy-efficient windows

Traffic patterns: How doors swing, space for working conveniently in the kitchen, home office, bathroom, etc.

Cabinet and door handles and hardware (for ease of use and style)

Safety concerns like non-slip flooring, accessibility features for aging in place, etc.



4. Building Dream Home Aesthetics: Keep it Classic
What was super hot in home design last year may be out this year. The great thing about building your dream home is that you can design classic spaces with natural, neutral elements that you can easily update with a coat of paint, some easy-to-switch decor, throw pillows, or fresh furniture pieces.
5. Dream Home Ideas to Add Value and Luxury
That said, there are some hot dream home ideas that are so good they will always be useful and wonderful, keeping your new construction home's value high, both for your own purposes and if you ever want to sell. For example:
Kitchens

—A great island, a spacious pantry, excellent custom cabinetry, superb windows, excellent lighting, and plenty of GFCI outlets are always going to come in handy.

Bathrooms

—In this part of the country, you can never go wrong with heated floors. Some other luxurious accents include rain-head showerheads, plenty of storage space to keep the bathroom counters clear, a built-in sound system, safe spaces for gadget chargers, etc.

Mudrooms—These in-between spaces between the outdoors and the inside are the perfect place to stow outerwear, muddy boots, leashes, shopping bags, etc. without tracking dirt into the house.
Home Offices

—Create a dedicated space that's quiet, inviting, and helps you focus comfortably with ergonomic office furniture and plenty of natural light.

Bedrooms

—Focus on comfort and rest, and don't forget a spacious spa master bathroom and walk-in closet
6. There's No Such Thing as "Enough" Storage Space
This is one of the key design-phase elements you never want to forget. Ample closets, shelving, and stow-away areas in every room of the house will keep it looking clean and organized.
7. Design with Your Family in Mind
While it's not possible to predict the future, if you plan to live in this house for many years to come, perhaps even aging in place, or want some room for college kids or aging parents to live with you, then plan for those spaces too.
Building Your Own Dream House in St. Croix Valley
At Derrick Custom Homes, we pride ourselves on our customers' happiness with their custom home projects. If you are ready to discuss your custom dream home plans, schedule a consultation today.