If you're shopping for a builder for your custom home, you might not be sure where to start. Building the right team for your project is the first step in your custom home journey. It is so important to make thoughtful decisions while looking for a prospective builder because they are the ones who make your dream a reality.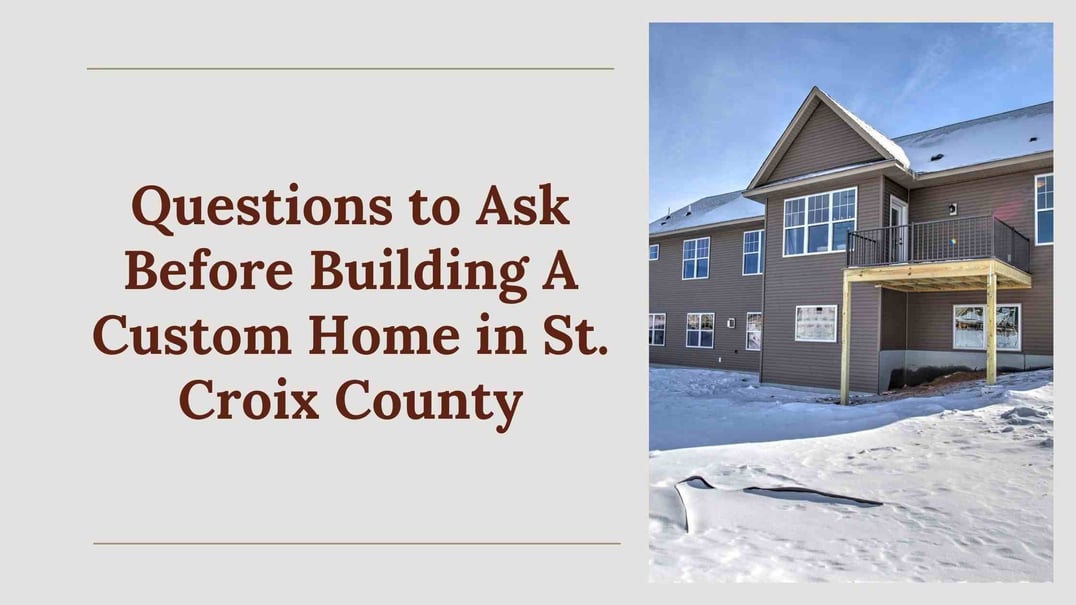 We'd love to help you ask good questions and find the right builder for you. At Derrick Custom Homes, we've been in the business for more than fifty years, so we've met with countless clients and been impressed with many of their questions. There are also some questions we wish clients would ask more often. As the trusted experts in the New Richmond and the East Metro area, we're happy to use our experience to help you find the right match with a custom home builder, whether you live in our market or beyond it.
What Do I Need to Do Before Hiring a Home Builder?
Here are some things to do before you contact a home builder to start your custom home journey:
Look into Finances
New construction financing works a little differently than traditional mortgages. Down payments, credit requirements, and interest rates are different from those for conventional mortgages at the same moment. Consider getting pre-approved for a new construction loan. This process will help you organize your financial information and plan for a home you can afford, and it will also demonstrate to a potential builder that you are a reliable client.
Get Your Look Together
Compile a list of features and aesthetics you would like to include in your new home. If you already have a complete Pinterest folder of layout and design ideas, great! Share this with your builder so that you can align your visions quickly. For more area-specific inspiration, drive around the neighborhood you are scouting for your home and take note of the exterior features you like and don't like.
Identify Key Traits Desired In Your Builder
Are you looking for a builder who works with green materials? Are you hoping to land in a thriving development? Is there a specific aesthetic that you envision? Knowing what you're looking for will help you feel confident when you find a good fit.
Take to the Internet
Check out the prospective builder's web page. You will likely find client testimonials, pictures of completed work, and information about their process. Spending time researching area builders online may help you eliminate builders who don't quite match with you and get excited about those who fit your style. Check out reviews of the business on Google or other local sources. Although there are two sides to every negative review, scout for trends in any online criticism to identify potential red flags.
What Questions Should I Ask My Builder Before Hiring?
We've dug into this realm before with our custom home design checklist blog. Here are some questions you ask your builder to make sure that you understand their process and ultimately select a good fit for your project.
What is a reasonable timeline for my project?
Who is the contact person for the project?
How do you handle change orders?
How often do you complete projects like mine?
How many of your projects finish on time?
Where can I go to find examples of your work?
What is your preferred method of communication?
When and how do you use subcontractors?
Do you partner with architects or designers?
Do you help with finding lots/land?
What warranties do you offer?
Do you have any custom features you offer or specialize in?
What are the steps in

your building process

?
How Do I Know If My Builder Is Good?
There are a few ways to ease your mind about your builder. We know that a custom home can be a once-in-a-lifetime investment, and we completely understand when our clients want us to prove we're as good as we say we are. Here are some ways to make sure you hire a reputable builder:
Proof of license and insurance: Quality builders happily provide proof of their license and insurance information when their clients request it.
Professional track record: Builders who have been working in the community for a long time have examples of their work all over the area. Those results often speak for themselves. Builders stay in business by consistently doing good work, so it's a good sign when a builder has been in business for a long time. Further, builders who have spent years in the area have extra knowledge about the neighborhood and local culture and can be a great resource.
Talk to past clients: Talking to people who have worked with your builder can help you ask questions your builder might not be able to answer. Gathering some past client perspectives can give you a feel for what it might be like to work with a company and give you some inside scoop on the potential pitfalls that would never come up during your builder interview.
Professionalism: Your builder should be courteous and knowledgeable. They should answer your questions to your satisfaction. Look for a transparent process and solid contract. Avoid anything that feels sketchy. Your builder should not be asking for significant money upfront.
Let Us Help You Make it Happen
We're confident you'll take our list of questions for custom home builders on a tour of St. Croix county and end up back on our doorstep. You deserve an attentive, full-service experience from your custom home builder, and we're confident we can deliver. We're excited to talk to you about your custom home project in the East Metro area. Reach out today and schedule a consultation.