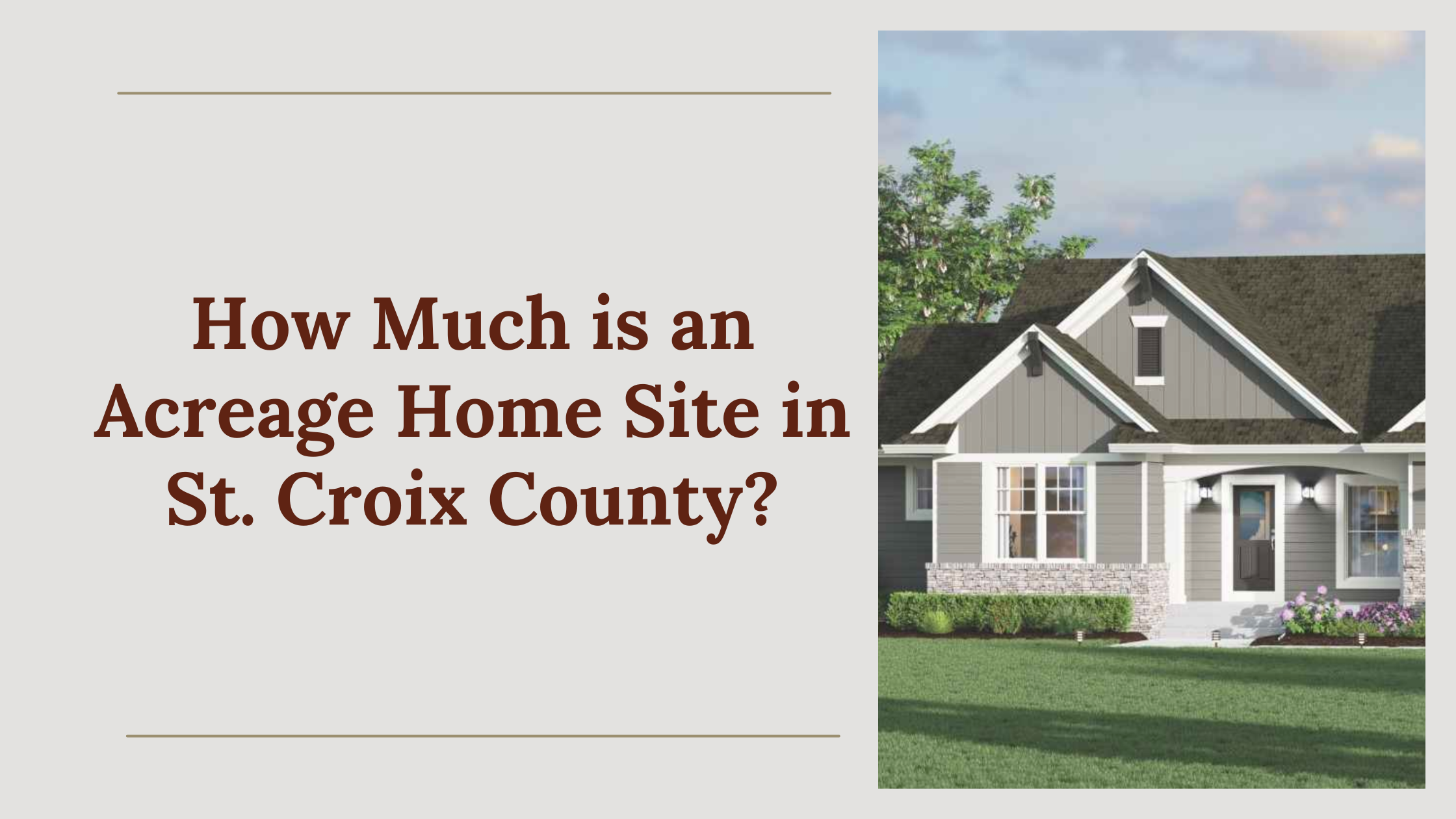 With so much to offer its residents, property in St. Croix County is highly sought after, and the average price per acre reflects this. You won't want to wait too long to find your perfect St. Croix land for your custom home. Luckily, when you buy property in St. Croix, even with more people moving here, you'll still have plenty of room to stretch out and enjoy the quiet because home lots tend to be more than an acre large. There are plenty of wonderful communities in St. Croix County for you and your family to build a custom home.
Why Are So Many People Moving to St. Croix County?
St. Croix County has seen incredible growth in the past several years and is projected to grow even more rapidly in the coming years. It's no wonder why, with excellent top-ranked public schools, parks, and plenty of opportunities to get outside and enjoy the beauty of Western Wisconsin.
St. Croix County is located just East of the St. Croix River and is the epitome of living and playing in the same place, making every weekend an adventure within reach. Go sailing on the St. Croix River, camping and hiking in Willow River State Park, visit the annual Hot Air Balloon Festival in Hudson, and for golf enthusiasts, enjoy one of the area's many excellent golf courses.
What is the Price Per Acre in St. Croix County in 2022?
The price per acre in Wisconsin ranges quite vastly. The difference lies in the difference in location and condition of the land. Undeveloped farmland can go for just a few thousand per acre while waterfront properties in desirable areas can go for several tens of thousands of dollars.
The price per acre in St. Croix County also varies. The cost of property in St. Croix that's developed and ready for a custom home can start around $20,000 per acre. More desirable land, like waterfront property, can reach $100,000 or more per acre.
The Best of the Best: Top Places to Live in St. Croix County
Two of the top best places to live in St. Croix County are Hudson and New Richmond. It's why most residents of these towns own their homes and why there are a plethora of amenities to keep you from having to travel too far for necessities. Both areas boast a small-town feel but with lots of access to shopping, dining, nightlife, and parks. St. Croix County is one of the top counties in Wisconsin to buy a home because it's perfect for families, young professionals, and older adults, alike.
Hudson
Hudson, WI, is a highly desirable place to live, making its average acreage price higher than the national average. Hudson is a dense suburban area with plenty to do and excellent schools. With the population shown to only increase over the next several years, the competition for land will also likely increase. If you're considering a move to Hudson, the-sooner-the-better should be your frame of mind.
In Hudson, Wisconsin, the community of Meadow Ridge of Troy is a great example of highly desired land that's developed and ready to build a custom home from the ground up. An average lot size is just over an acre and is priced at an average of $124,800. You'll have easy access to the town center as well as River Falls.
The community is beautiful and quiet, with panoramic views of St. Croix Valley. Luxury custom homes worthy of this location in Meadow Ridge of Troy are starting at $750,000.
New Richmond
New Richmond is a small city with lots of shopping, dining, and locally owned shops. The schools are highly ranked, job growth is on the rise, and crime is well below the national average, making it a great place to raise a family.
New Richmond hasn't seen the level of population growth that Hudson has, so the price per acre is considerably less. Water's Edge is one community in New Richmond that offers land for new custom home building. The average size of the available lots is a generous 1.75 acres and has an average price of over $68,000. For $92,000 you can expect at least an acre with an added bonus of access to Brushy Mound Lake. Lots without lake access, but still guaranteed to be at least an acre, go for $40,285.
The benefits of living in Water's Edge are close proximity to Willow River State Park, fine dining options, and safety. It's everything you'd want in a neighborhood for you and your family. Average custom homes in this area begin at around $500,000.
Your Custom Dream Home in St. Croix County
Enjoy the beauty and adventure that Western Wisconsin offers and begin your new life in St. Croix County. With a wide range of prices per acre, there is a perfect spot for everyone. Finding the right property in St. Croix for you and your family can be easy with the right team. Derrick Custom Homes is a custom home builder that has served the greater Twin Cities area for over 50 years. As a family-owned business, we know how important the perfect location for your custom home is and how to find the best fit. Whether you're just beginning your search for property in St. Croix County or you already have your eye on a lot, contact us and we'd love to show you around.