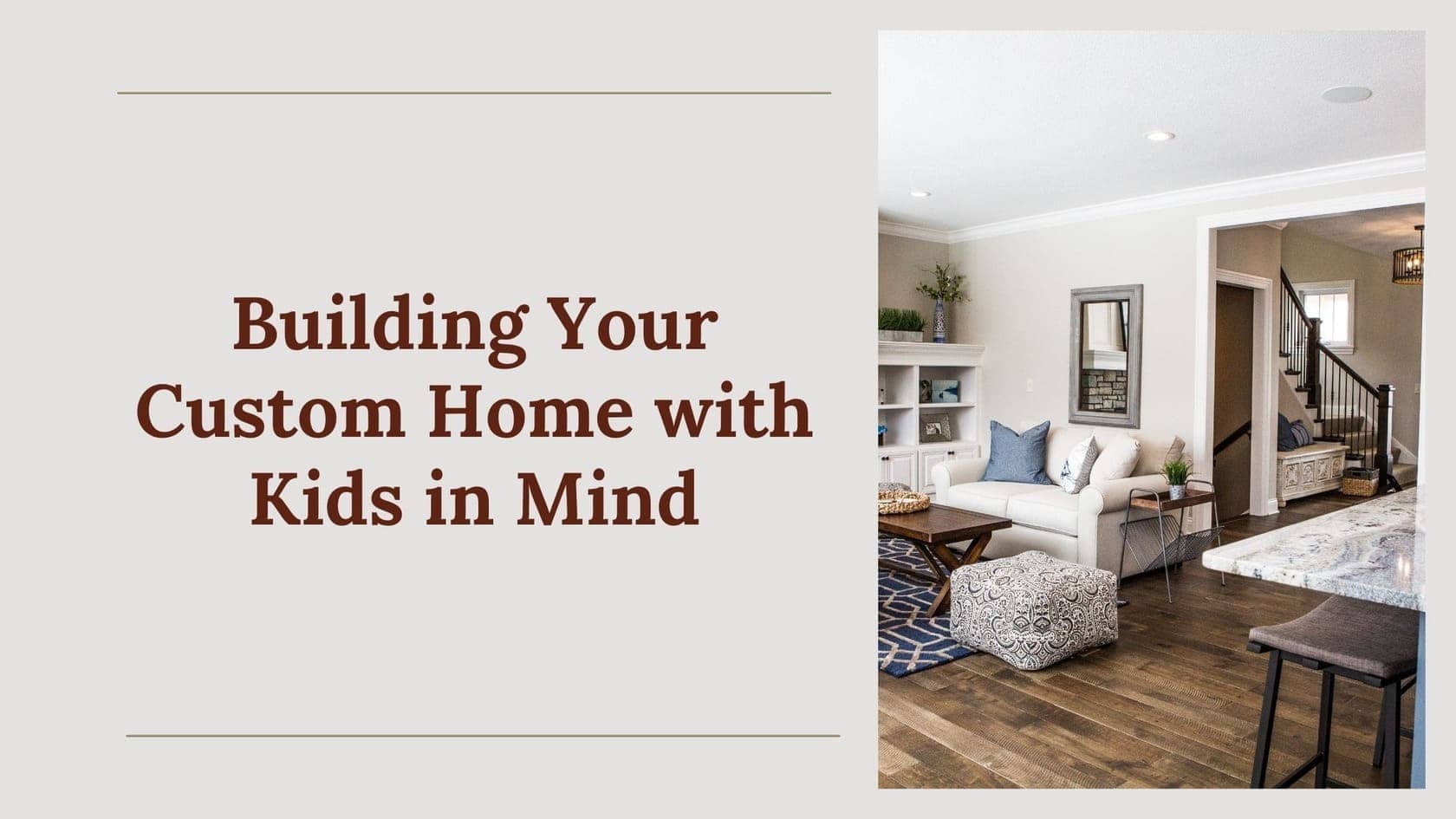 Planning your family-friendly custom home can look a lot of different ways depending on how old the kids are, or if kids are part of future plans. Safety, organization, and fun are all parts of a kid-friendly home design. Your custom home designer can help you decide what features you would benefit from but having ideas before your design meeting will help you feel prepared and knowledgeable.
What is a family-friendly house and how can you design your custom home to be more kid-friendly?
Drop Zones
School-age kids come home with a lot of stuff. Backpacks, sports gear, art projects, the list goes on. Without a drop zone to park their things as they walk in the door, you'll inevitably be left with that stuff just sitting on the floor, waiting for the next practice or school day. Make a drop zone a must-have on your custom home design list. This could come in a few different forms.
Mudroom
A mudroom is a great all-season and all-weather option for rainy or snowy days. Along with plenty of storage for each person's things, the mudroom is designed to be easily cleaned and it's usually the first room off of the garage or another place that's out of view from the main living space. Include a place to hang coats, shoe storage, and even individual locker-like storage so each kid will have their own space to hang backpacks. Include a half bath right off of the mudroom and you'll have an entry space that takes you from a busy day to ready for an evening at home.
Entryway Drop Zone
Another option for a drop zone with a smaller footprint is outfitting the entryway with a coat closet with and a small bureau for umbrellas, gloves, leashes, reusable shopping bags, and everything else that comes and goes from the house. Organize the top with a place for the mail, keys, and a calendar for schedules.
Jack & Jill Bathrooms
The Jack & Jill bathroom is a classic concept that's been around for ages. The typical layout might include a commode, a double vanity, and a bathtub shower combo. Newer layouts consider more privacy for the duo that might be sharing the space. Both rooms will open into a shared double vanity area with another door that conceals the bathtub and commode. This way, one person could be using the sink while another is using the bathtub. It's much more efficient than the former layout of each door opening up to a three-piece bathroom that's completely open and offers an extra layer of privacy.
Safety Measures for a Kid-Friendly Home
In every room of the house, there are added steps you can take to feel more at ease about having little ones in your home.
Safer Shelving
Consider built-ins as opposed to freestanding bookcases or shelving. Built-ins won't be able to tip over and cause serious injury like furniture can. Even with furniture anchors, accidents can still happen.
Non-Toxic Paint
Your paint choices can also be a safety-focused decision when you choose zero VOC (volatile organic compound) paints. These paints mitigate the indoor air pollution typical of regular house paint and are a good choice for any home, with or without children.
Non-Toxic Flooring
VOCs are also found in a lot of flooring. Stains, adhesives, and resins all contain harmful toxins that are then inhaled through off-gassing or the release of fumes from these materials. Luckily, low-VOC vinyl and laminate flooring are easier to find nowadays. Ask your designer about these types of flooring options.
Child-Safe Stairs
Other safety measures you can take to create a family-friendly home is considering how you will child-proof your home after construction is complete. Baby gates have come a long way in style and function, but you will have to make sure that your stairs will be able to accommodate a baby gate. Stairs that are designed to flare outward at the bottom will be more difficult to add a baby gate than straight stairs.
Outlet Covers
Tamper-resistant outlets are a child-proofing must. For outlets that are not in use, consider replacing the common outlet plate with one that has a sliding mechanism that has to be pushed out of the way before use. For outlets that are always in use, like lamps and TVs, you can install an outlet box that keeps the plug from being able to be pulled out.
Fireplace Safety
Another place to think about safety during the design phase is the fireplace. Depending on the size and placement of your fireplace, consider talking with your designer about a custom gate or screen to keep little hands far from the heat.
Extra Storage Space in the Living Room
Plenty of custom cabinetry for a kid-friendly living room will keep all of the clutter off of the floors and out of sight. If you're planning a custom home with babies or toddlers in mind, make sure to include lots of lower cabinets so as they get older, they can learn to put away their own toys and books in a spot that's easy to reach.
Childproof cabinet latches that are concealed on the inside of the cabinet door will keep the little ones out without unsightly plastic on the outside of your custom cabinetry. Or, the bottom storage can be open shelving with ample canvas baskets, so there's no chance of pinched fingers.
As for keeping things out of reach, plan for cords and electronic equipment to be housed in compartments that are high enough or set back enough to avoid being pulled down and causing injury.
Recreation
As kids get older, they will need more opportunities around the house to stay active and burn off energy. This is why choosing a large lot for your custom home would come in handy. You'll have plenty of space for a half court for playing basketball, quarter pipes and ramps for skateboarding, or even a geometric dome for climbing. With enough space and planning, the possibilities are plenty.
Flex Rooms
Kids will grow out of different types of rooms in an instant. You might be left needing a remodel or buying new furniture every few years if you don't plan for a room to easily change with their needs. The flex room is a space that's designed to do just that. Storage is every homeowner's best friend, and for the flex room, it's a must.
You can't go wrong with a full wall of built-in shelving and custom cabinetry with plenty of access to outlets. This will suit the needs of a playroom, a gaming room with space for gaming consoles and monitors, an office or homework space, and more. Consider including a window seat for a place to read or a closet in case of if the space transitions into a bedroom.
Talk with a Professional Custom Home Builder
Even when you think you've thought of everything to design a family-friendly custom home, talking with a professional custom home builder could open up a world of ideas. An experienced builder and designer can help you plan for your future home that's safe and fun for all members of the family.
Derrick Custom Homes knows a thing or two about family because being family-centric is one of our Core Values. We know how important it is to design your custom home for the present and the future and we've been designing and building homes for Twin City families for decades. Contact Derrick Custom Homes to schedule a consultation and discuss your future custom family home today.